Chrome's Canary channel gets a visual overhaul, new features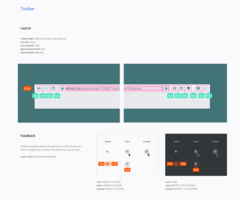 The developer channel for Google's Chrome browser ("Canary") is sport a new coat of paint as well as some useful features. While all of these changes may not make their way to the Stable channel, the new design language echoes what we've already seen in early builds of Android P and the leaked Gmail design refresh.
Working For Notebookcheck
Are you a techie who knows how to write? Then join our Team! Especially English native speakers welcome!
Currently wanted:
News and Editorial Editor - Details here

After all the design changes and leaks we've seen in the early versions of Android P and upcoming revisions of Gmail, it looks like Chrome may be next in line for some updates. The Canary channel of Chrome (i.e., the nightly developer build of the browser) was recently updated and shows off a few new features, including a slight design shift to a more rounded, organic look.
If the Canary channel updates do indeed carry through to the Stable channel, then Chrome users can expect to see rounded rectangular tabs, which is quite a shift from the sharp-angled trapezoids of the current browser. The tabs in Chrome Canary are reminiscent of the pre-Quantum versions of Firefox; oddly enough, Mozilla ditched the rounded design for a more angular, squared off look in the latest Quantum build of Firefox.
The design tweaks mirror what we've seen in other upcoming product updates from Google. Boxes are getting rounder, buttons are growing more colorful, and the overall design aesthetic is shifting toward a language dubbed "Material Design Refresh," an apt name for the successor of Google's Material Design.
Some design documents detail further changes and features that have yet to be implemented in any Chrome channel. These include a "new tab" button to the left of the tab bar (preceding the row of tabs) and a new "teleport mode" that allows an active user profile to send windows to another user profile (provided Chrome is in multi-user mode).