Apple bans crypto-mining apps from all its platforms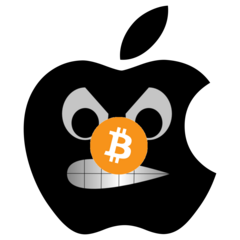 Apple's App Store Review Guidelines have recently been updated with a section dedicated to cryptocurrencies. In sum, Apple's app stores (iOS, macOS, watchOS, and tvOS) will no longer allow apps that create or generate cryptocurrencies. Crypto wallets and trading apps are still kosher to distribute, but the rules surrounding these kinds of apps have become much more strict.
Apple prides itself on having one of the most rigorously vetted app ecosystems, and this level of scrutiny goes across all their platforms. All the app stores (iOS, macOS, watchOS, and tvOS) have stringent rules around what kinds of apps can be sold or distributed, and they're about to get more strict. Apple has now outright banned any and all apps that mine cryptocurrencies from all of its platforms.
Apple has added an entirely new section to their App Store Review Guidelines covering cryptocurrencies. Section 3.1.5 (b) now lists five rules concerning cryptos. Essentially, "wallets" (apps that "store" cryptocurrencies) are allowed as long as they are provided by a developer "enrolled as an organization," but all cryptomining activity is now forbidden. The only exceptions are cloud-based mining (apps that mine "off device") and crypto trading, provided that the trading app is offered by the actual exchange on which the trading occurs. Initial Coin Offering (ICO) apps are also allowed, but they have to come from "established banks, securities firms, futures commission merchants ("FMC"), or other approved financial institutions."
In essence, Apple is cracking down on rogue apps that either mine cryptocurrencies as a background process or apps that offer cryptocurrency as a reward for other actions, like downloading another app or posting to social media. Although users will still be able to manage and trade cryptocurrencies on their Apple device, this move basically kills the generation of cryptocurrencies via Macs and iPhones (at least through the official app stores).