HTC Exodus blockchain phone announced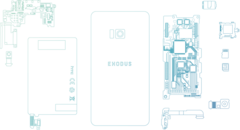 Smartphone manufacturer HTC has announced the development of the HTC Exodus device, which is based on blockchain technology. According to the Taiwanese company, the Exodus will use decentralized applications (DApps) and offer a "built-in secure hardware enclave" that will make cryptocurrency ownership and transactions more straightforward for users of the smartphone.
HTC has revealed the development of a blockchain-based device known as the Exodus. The smartphone will use Android as its OS, and it will offer a number of features for those concerned about the security of their private data. The HTC Decentralized Chief Officer, Phil Chen, had this to say about the new project:
The HTC Exodus is the first native blockchain phone dedicated to bringing end consumers the best decentralized application (DApp) experiences, including a built-in secure hardware enclave, and helping underlying protocols expand their base of dedicated nodes, thus expanding the total blockchain ecosystem.
The obvious theme of the Exodus is decentralization (the website for the phone even labels it as an "agent of decentralization"). HTC wants to offer a device that is designed for potential customers who are familiar with cryptocurrencies and blockchain technology, with a deliberate focus being placed on the user's data privacy and security.
It is possible for those interested in getting their hands on an HTC Exodus to reserve one on the official sign-up page. Not much is mentioned about the specifications or hardware components of the smartphone, and there is no word about price or release date yet. HTC isn't the only company working on blockchain/smartphone integration; SIRIN Labs is expected to release the blockchain-connected Finney smartphone later this year.