Facebook was the world's most popular app publisher in Q4 2018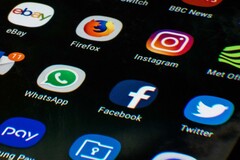 According to data from Sensor Tower, Facebook was the top app publisher in the world for Q4 2018, with over 800 million app installations. It was also the number one publisher on Google Play, amassing nearly 700 million installs. The App Store champion publisher was Google, which managed close to 200 million installs for the quarter.
Sensor Tower has collated data in regard to the world's top app publishers, and its charts show that this particular industry is truly international. The top 20 listed publishers represent 10 different countries from around the globe. Heading the combined App Store/Google Play chart is Facebook, which is followed by Google, Voodoo, ByteDance, and Tencent.
The picture for the Google Play only chart is similar: It is headed by Facebook, followed by Google, Voodoo, Outfit7 Limited, and ByteDance. Voodoo is the publisher behind a host of games such as Paper.io 2 and Helix Jump, and Outfit7 Limited is the company that created the incredibly successful Talking Tom and Friends franchise.
However, it seems iPhone and iPad owners aren't as interested in apps published by Facebook, as they have chosen to install products by Google, Tencent, and Voodoo first, pushing Facebook into fourth place while Alibaba Group takes fifth. Both Chinese-based publishers and companies in the USA are strongly represented in the overall global figures, with the former country represented by five organizations and the latter being home to six of the world's top 20 app publishers.