Update: AMD Pricing Revised | Intel cheaper than AMD: Lenovo Legion 5 with 7 nm Renoir will be more expensive than the 10th gen 14 nm Intel version when they launch this May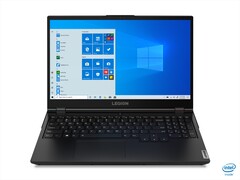 (April 17, 2020 update: Lenovo has reached out with a revised starting price for the AMD Legion 5. The system will now start at $759 USD while the Intel Legion 5i will launch for $849 as originally planned. The following article has been amended to reflect this.)
(April 16, 2020 update: The Legion 7 is a 15.6-inch laptop with no 17.3-inch version announced as of this writing. The article has been amended.)
The recently revealed flagship 15.6-inch Legion 7 will be joined by the mid-range 15.6-inch Legion 5 series next month to replace the old 15.6-inch Legion Y740-15. Although it will carry the same design language as the Legion 7, the Legion 5 will actually have a lot more differences under the hood.
First, let's start with the external differences. The Legion 5 TrueStrike keyboard will have deeper key travel than the Legion 7 (1.5 mm vs. 1.3 mm) while dropping both Thunderbolt 3 support and per-key RGB lighting. The latter is disappointing because even the older Legion Y740-15 would support Thunderbolt 3 and per-key RGB lighting. Meanwhile, the 1080p-only display will be up to 120 Hz for the AMD SKUs and 240 Hz for the Intel SKUs.
Internally, the Legion 5 will have a traditional copper heat pipe cooling solution in contrast to the more advanced vapor chamber cooler of the Legion 7. GPU options will be up to the GTX 1650 or 1650 Ti for the AMD SKUs and up to the RTX 2060 for the Intel SKUs. This means that the Legion 5 series may actually run games slower than last year's Legion Y740-15 which offered faster RTX 2080 Max-Q options. Two battery sizes will be made available with the smaller size having more internal storage options.
Based on the initial configurations, it looks like Lenovo will be marketing the AMD Legion 5 to be a few steps below the Intel Legion 5i in terms of graphics performance and display features. Comparisons between the Intel and AMD SKUs should be interesting nonetheless especially since users will have the option to configure with the same GeForce GTX GPU.
The AMD Legion 5 and Intel Legion 5i will launch at a starting price of $760 and $850 USD, respectively. A 17.3-inch Intel Legion 5i will also launch simultaneously for a starting price of $1130 albeit with no 17.3-inch AMD counterpart option.
Lenovo Legion 5 and Legion 5i
Lenovo Legion Y740-15
CPU
Up to 10th gen Core i9-10980H (Legion 5i)
Up to 3rd gen Ryzen 5 4600H or Ryzen 7 4800H (Legion 5)
Up to 9th gen Core i7-9750H
GPU
Up to GeForce RTX 2060 (Legion 5i)
Up to GeForce GTX 1650 and 1650 Ti (Legion 5)
Up to GeForce RTX 2080 Max-Q
RAM
8 to 32 GB DDR4 upgradeable
8 to 32 GB DDR4 upgradeable
Display
15.6-inch 1080p 60 Hz or 120 Hz (Legion 5 and Legion 5i)
15.6-inch 1080p 144 Hz or 240 Hz with G-Sync (Legion 5i only)
17.3-inch 1080p 60 Hz or 144 Hz (Legion 5i only)
15.6-inch IPS 60 Hz or 144 Hz
I/O Ports
4x USB Type-A, 1x USB Type-C w/ DP, HDMI 2.0, RJ-45, 3.5 mm combo audio
3x USB Type-A, 1x Thunderbolt 3, HDMI, mini-DisplayPort, RJ-45, 3.5 mm combo audio
Webcam
Above screen w/ privacy shutter
Below screen
Battery
60 Wh
57 Wh
Wireless
Wi-Fi 6 w/ Bluetooth 4.1
Wi-Fi 5 w/ Bluetooth 5
Dimensions
363 x 260 x 25.5 mm
362 x 265 x 25 mm
Weight
2.5+ kg
2.3+ kg