Clues point to existence of a Lenovo Legion 5 with AMD Ryzen 4000-H and RTX 2060, but that may have been shelved; Ryzen 4000 variants could offer double the battery life compared to Comet Lake-H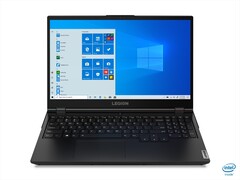 References pointing to Legion 5 laptops, possibly the Legion 5 and 5i, are now available on the Lenovo PSREF site, and they reveal some interesting information. We are getting to see a total of three models being listed on PSREF including the Lenovo Legion 5 15IMH05, 15IMH05H, and 15ARH05. The Lenovo BIOS simulator also shows a 15ARH05H model, but we don't find that listed in PSREF. More on that in a while.
The Legion 5 15IMH05 and 15IMH05H are pretty much identical models save for a few minor changes. Both SKUs are powered by Intel Comet Lake-H CPU options that include the Core i5-10300H, Core i7-10750H, and the Core i7-10875H, and feature a similar port selection, battery life, and other standard Lenovo features. The differences primarily lie with respect to the GPU and display options. While the Legion 5 15IMH05 offers the NVIDIA GeForce GTX 1650 and GTX 1650 Ti options, the 15IMH05H offers a choice between the GTX 1660 Ti and the RTX 2060.
With regards to the display, the 15IMH05 offers an entry-level FHD 250-nit 120 Hz IPS panel with a 45% NTSC gamut apart from 144 Hz 300 nits and 240 Hz 500 nits Dolby Vision options. The 15IMH05H does not offer the entry-level display option but other choices are available. Interestingly, as per the spec sheet, the 15IMH05H also foregoes the 720p webcam.
On the AMD side of things, we see a listing of the Lenovo Legion 5 15ARH05 that comes with Ryzen 5 4600H and Ryzen 7 4800H CPU options and GPU options between the GTX 1650 and the GTX 1650 Ti. Rest of the specs are similar to the Comet Lake-H-powered Legion 5 SKUs with the exception of the display that tops-out at FHD 144 Hz 300 nits Dolby Vision with no 240 Hz option available.
Now, here's the fun part. While PSREF does not show any results for a 15ARH05H SKU, we do see the entry in the Lenovo BIOS simulator tool as well as in the Japanese download page for the Dolby Vision Provisioning Utility. The BIOS simulator also shows a "Restore Default Overclocking" option in the Configuration page. While it is hard to exactly tell what this feature entails, it could be some sort of a fall back switch to the Ryzen CPU's default overclocking algorithms from any other manual overclock.
All in all, the sporadic indications of the 15ARH05H SKU without any entry in PSREF could mean that Lenovo might have contemplated on offering an RTX 2060 GPU with AMD Renoir processor options but backtracked in the last minute for some reason. We'll leave that up to you to speculate.
Another interesting observation from the spec sheets is that the AMD SKU seems to offer nearly double the battery life compared to its Intel counterparts. MobileMark 2018 battery life measures for the Legion 5 15IMH05 and 15IMH05H powered by Comet Lake-H are indicated as 7.7 hrs for the 80 Wh battery and 6.8 hrs for the 60 Wh option. However, in the case of the the Legion 5 15ARH05 powered by Ryzen 4000-H, Lenovo has indicated the MobileMark result as 13.5 hrs for the 80 Wh cell and 12.5 hrs for the 60 Wh option.
While we do know that AMD has incorporated several battery life enhancements in Renoir, such a large difference in battery run times does raise a few eyebrows. We will have to test these laptops ourselves to see whether the specified battery runtimes are indeed true in real-world usage.
Source(s)
Lenovo PSREF (1), (2), and (3) (PDF)
Though a cell and molecular biologist by training, I have been drawn towards computers from a very young age ever since I got my first PC in 1998. My passion for technology grew quite exponentially with the times, and it has been an incredible experience from being a much solicited source for tech advice and troubleshooting among family and friends to joining Notebookcheck in 2017 as a professional tech journalist. Now, I am a Lead Editor at Notebookcheck covering news and reviews encompassing a wide gamut of the technology landscape for Indian and global audiences. When I am not hunting for the next big story or taking complex measurements for reviews, you can find me unwinding to a nice read, listening to some soulful music, or trying out a new game.