Faux-K: Make Sure Your Next 4K Laptop is Actually 4K
Introduction
The rush for notebook display resolutions higher than 1080p began when Apple introduced its "Retina Display" panel to its MacBook Pro line in 2012. Ever since then, competing manufacturers have been prominently offering 3K and 4K resolution options on flagship models including the Dell XPS series, Lenovo Yoga series, HP Spectre series, Acer Aspire series, Asus ZenBook Pro series, and most enthusiast gaming notebooks and mobile workstations.
Unfortunately, not all high resolution panels are created equal. Some early 3K and 4K panels utilize an RGBW matrix instead of the standard RGB. Worse yet, manufacturers almost never disclose this information as 4K panels are simply advertised as "4K UHD" with no distinction between RGBW or RGB. The purpose of this article is not to discuss the pros and cons of 4K UHD versus FHD on notebooks, but to define why the distinction between 4K RGBW and RGB is objectively important and to identify which notebooks carry which 4K panel technology.
Why RGBW is the poor man's 4K
In a standard 4K UHD (3840 x 2160) RGB matrix, each row is made up of 3840 pixels that are each further divided into three individual RGB subpixels. The subpixels can be switched on or off to produce the colors we see when sitting at a normal viewing distance. In a 4K UHD RGBW matrix, however, each row is still made up of 3840 pixels but every fourth subpixel is replaced with white. Thus, instead of the uniform RGB-RGB-RGB pattern of a standard RGB matrix, the RGBW panel would consist of repeating RGB-WRG-BWR-GBW sets of subpixels. Users are actually losing Red, Green, and Blue subpixels that would have otherwise been there if it weren't for the introduction of a White subpixel. In effect, a 4K RGBW panel offers 25 percent fewer RGB pixels for a total of only 1920 or 2880 RGB pixels per row.
The problem with this approach is two fold. First, three of the four groups of pixels in an RGBW matrix (WRG, BWR, and GBW) are unique to this matrix type and are each unable to represent colors as accurately as an RGB pixel since they are missing key primary subpixels. Secondly, nearly all digital video sources have been designed to output to RGB displays and so fidelity is lost in the conversion to RGBW. A total of four subpixels per pixel must be taken at a time in order to represent the full range of colors in a RGBW panel (RGBW-RGBW-RGBW), but the total number of pixels per row would again be reduced to only 1920 or 2880 if using this approach.
The results are more difficult to notice on a 4K laptop compared to a large 4K television set because of the denser PPI, but the outcome is similar; Users will get crisper picture quality out of an RGB panel compared to RGBW. Our table below compares a handful of 4K notebooks that we have identified with either RGB or RGBW displays. Notice that contrast is notably worse in notebooks with RGBW panels because of the addition of a White subpixel. The discrepancy occurs consistently between these two display types according to our own measurements.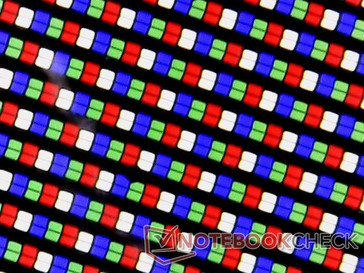 MSI GS63VR 7RF-228US


4K UHD RGBW

Asus ZenBook Pro UX501VW-DS71T


4K UHD RGBW

Eurocom Q5


4K UHD RGBW

Dell XPS 15 9560 (i7-7700HQ, UHD)


4K UHD RGB

HP Spectre x360 15t-bl100


4K UHD RGB

Aorus X5 v7


4K UHD RGB

Display
Display P3 Coverage

48.21

64.3

63

89.7

66.6

65.3

sRGB Coverage

72.6

89.9

92.7

100

86.9

91.9

AdobeRGB 1998 Coverage

49.81

65.4

64.4

100

63.5

66.3

Response Times
Response Time Grey 50% / Grey 80% *
Response Time Black / White *
PWM Frequency

962

1000

Screen
Brightness middle

274.2

252.9

287.5

370.1

338.7

307

Brightness

263

250

279

356

325

297

Brightness Distribution

92

89

87

87

91

92

Black Level *

0.44

0.5

0.65

0.37

0.28

0.3

Contrast

623

506

442

1000

1210

1023

Colorchecker dE 2000 *

8

5.22

4.5

5.3

4.9

4.72

Colorchecker dE 2000 max. *

14.6

8.33

8.9

9.9

8.7

8.07

Greyscale dE 2000 *

9.1

6.74

4.6

4.6

5.5

4.79

Gamma

2.24 98%

2.45 90%

2.39 92%

2.31 95%

2.08 106%

2.42 91%

CCT

5020 129%

6026 108%

7393 88%

6284 103%

7498 87%

7690 85%

Color Space (Percent of AdobeRGB 1998)

45.7

58.4

59

88.3

63.5

60

Color Space (Percent of sRGB)

72.1

89.7

92.3

100

86.92

92

Total Average (Program / Settings)
* ... smaller is better
Which Laptops use RGBW and which use RGB?
Now that we've established why 4K RGB is preferred over 4K RGBW, the next step is to find out which laptops carry 4K RGBW. A complete and all-inclusive list would be essentially impossible to provide because of the wide variety of models now available with 4K and the aforementioned fact that nearly all manufacturers have chosen not to disclose the type of panel in use. We can, however, provide a list of 4K laptops that we've personally tested ourselves as shown in the table below. Interestingly, all of the RGBW panels we've seen thus far have been manufactured by either Samsung or LG.
The good news surrounding the RGBW and RGB marketing confusion is that the manufacturers we've spoken to have all acknowledged the drawbacks of RGBW. HP, for example, utilized RGBW panels for its first generation Spectre x360 15 convertible before promptly dropping it on the second generation Spectre and onward due to user criticisms. Gigabyte has also recognized that RGBW is inferior to RGB after internal testing and there are subsequently no laptops from Gigabyte or Aorus with RGBW displays.
Laptops with RGBW are thankfully the exception instead of the rule in newer models. Nonetheless, users should be careful when purchasing older models circa 2015 where RGBW is more common. MSI is perhaps the worst offender as its popular 15.6-inch gaming GS series continues to use RGBW to this day.
Incomplete List of Notebooks with RGBW Display Panels
After graduating with a B.S. in environmental hydrodynamics from the University of California, I studied reactor physics to become licensed by the U.S. NRC to operate nuclear reactors. There's a striking level of appreciation you gain for everyday consumer electronics after working with modern nuclear reactivity systems astonishingly powered by computers from the 80s. When I'm not managing day-to-day activities and US review articles on Notebookcheck, you can catch me following the eSports scene and the latest gaming news.