Dell announces upcoming 9th Gen Intel Core CPU and GeForce GTX 16 series GPU upgrades for XPS 15 range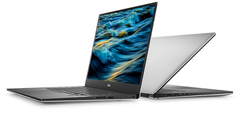 Dell has revealed that its XPS 15 lineup will be receiving upgrades to the new Intel Core Coffee Lake-H Refresh chips in June. Along with the 9th Gen CPUs, shoppers looking to purchase a new XPS 15 will have the opportunity to select one of the new mobile GPUs from Nvidia: the GeForce GTX 1650 and the GeForce GTX 1660 Ti.
Dell has confirmed that its high-performance series of XPS 15 laptops will soon also benefit from the recent releases of Intel's 9th Gen CPUs and Nvidia's new Turing-based entries to its GeForce GTX 16 series. The company currently has a timeframe of June for unveiling the refreshed lineup of computers.
This means the Dell XPS 15 will join other so-called 8-core laptops that have already been revealed. The 9th Gen Intel Core chips are aimed at gamers and creators looking for the highest performance from a mobile computing solution. The high-end i9-9980HK has a base clock rate of 2.4 GHz, it can boost up to 5.0 GHz, and it utilizes eight cores and 16 threads.
Along with the Coffee Lake-H Refresh processors, the Dell XPS 15 line will also feature options for Nvidia's GeForce GTX 1650 and 1660 Ti. The former GPU is the successor to the ageing GeForce GTX 1050 and has the ability to offer 60 FPS rates in games such as Fortnite and Apex Legends when complemented with the appropriate hardware.
The refreshed Dell XPS 15 will also have the chance to shine with the GeForce GTX 1660 Ti graphics option. We benchmarked this GPU performing at a rate not far from an RTX 2060 (3DMark 11 – Fire Strike Graphics). Gamers can look forward to achieving 100 FPS in popular titles such as PUBG and Apex Legends. Dell plans to release more details about the hardware upgrades before the 8-core Dell XPS 15 becomes available in June.