Buyer's Guide: Top Notebooks of March 2013
Are you planning to buy a laptop, tablet, convertible or smartphone? This may be the right article for you. After publishing in-depth reviews of single devices, we venture to list and compare the latest premium devices of every category.
We intend to answer the following questions: Which devices reached the top of their class in the past months? Which of the most recently reviewed products made it into the top ten of their category? What are the current performance-money champions? And; which device will win the Editor's Choice Award?
They came, saw and conquered. Samsung's latest version of the Series 7 proved to be a virtually perfect multimedia machine in our tests. The last reviewed 770Z5E even unfalteringly passed by its contenders and pushed itself into the elite group of devices rated with "Very Good" by Notebookcheck.
At a price of approximately 1300 Euros (~$1689), Samsung's Chronos 770Z5E does not exactly belong to the cheapest devices of its kind, but the buyer also gets a lot for his money. An elegant aluminum casing, a high-end Full HD screen with an ergonomically matte surface, an A1 sound system and very good battery runtimes of up to 10 hours and more during practical use. The device also sports Intel's 3635QM quad-core CPU from the latest generation and AMD's premium class HD 8870M graphics card. Consequently, you are not only prepared for every imaginable application scenario that could evolve in office or multimedia fields, the laptop is also quite suitable for gaming. The only point of criticism here was we missed an SSD alternative. For this, Samsung diverts the attention to the larger Samsung Chronos 770Z7E that features very similar equipment, with the exception of the 17-inch screen. However, the laptop has two storage device slots that are, depending on the model, fitted with a conventional, high-capacity HDD and a swift SSD for the system. They are available from approximately 1300 Euros (~$1689) depending on the version.
Asus' N56VB also achieved a high entry to the Top Ten Chart of Multimedia Laptops placing fourth after its recent review. It places itself just behind Asus' UX51V. In contrast to Samsung's machines, the main focus is on price and thus the device is available from 799 Euros (~$1038) depending on the configuration. The laptop sports Intel's i7-3630QM quad-core alongside a new GT 740M graphics card that clearly has a lower performance than AMD's HD 8870. Nevertheless, the power is usually enough for up-to-date computer games in high details and modified resolution (HD). Talking about resolution, the Full HD screen offers a high brightness and an eye-friendly, matte surface. Compromises have to be made in battery life with 3-4 hours in practical use. We also noticed weaknesses in the Wi-Fi connection's performance during the test.
Asus' Zenbook UX51V takes the third place of our current Top Ten. It makes Asus a premium multimedia machine and directly opposes the two aforementioned Samsung laptops. It is powered by Intel's quad-core CPU, a GeForce GT 650M graphics card, a solid-state drive and features a matte, Full HD IPS screen. Although this sounds great, it did not achieve "Very Good" because the slim and lightweight casing became very warm during load and our test device's fan was a bit too eager. Its price starts at around 1500 Euros (~$1949), depending on the detailed features.
What's new in our Top Ten Multimedia Laptop chart? Dell's XPS 15 has reserved the fifth place since last summer. Intel's quad-core CPU is fused with a GeForce GT 640M graphics card and interacts with the user via a glossy FHD screen. Depending on the detailed features and the consistently changing offers from Dell, the starting price is approximately 1300 Euros (~$1689).
It is very interesting that the two following places are occupied by two different configurations of Acer's Aspire V3-571G. The first sports Intel's i5-3230M dual-core CPU and Nvidia's GeForce GT 730M graphics alongside 8 GB of RAM. Its price starts at approximately 800 Euros (~$1040). Beside it, the discontinued model featuring Intel's i5-3210M CPU and Nvidia's GeForce GT 640M graphics solution for starting at around 625 Euros (~$812). Both devices were roughly on a par in terms of performance and thus savers will focus on the cheaper version, especially since both versions come with a matte, Full HD IPS screen. This is unique in this price range. Apart from the noticeable temperature development during load, there was barely any reason for complaint in the tests.
What can we expect from the multimedia category in the following months? Generally, the manufacturers will unlikely want to release new devices on the market before Intel's Haswell launch planned for June. Depending on the processors that Intel will place at the starting line, summer 2013 could again be exciting in view of new products.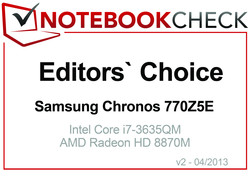 Award: Samsung Chronos 770Z5E
We admit that multimedia devices have a particularly hard time convincing our critical editors and especially our ranking system. A balanced package of performance and portability is demanded here. Samsung does a next to perfect job with the Chronos 700Z5E and consequently achieves a rating of 88%. Our conclusion is thus "Very Good", which is a rare thing. It offers a high-quality casing with an appealing design, good connectivity, convincing input devices, first-rate screen with ergonomic, matte surface, very good application and graphics performance, reasonable emissions, A1 sound and outstanding battery runtimes in view of the available power. However, the closed system that only allows restricted maintenance or upgrading of components (HDD, battery) has to be accepted. We would also appreciate an alternative with a 256 GB SSD as a Notebookcheck Deluxe Edition. Regardless of that, the Editor's Choice Award of March/April 2013, in the category of Multimedia Laptops, incontestably goes to Samsung's 700Z5E. Congratulations.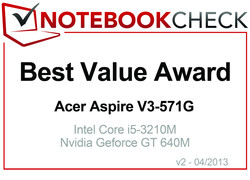 Award: Acer Aspire V3-571G
Even more premium devices are undoubtedly found among the current Top Ten. However, the Aspire V3-571G stands out with its first-rate performance for money ratio. The frugal multimedia fan will find a solid foundation with Intel's i5 dual-core processor and Nvidia GT 640M midrange graphics alongside a first-rate, matte Full HD IPS screen for less than 650 Euros (~$845). This is usually found in devices beyond 1000 Euros (~$1299), if at all. All modern games were rendered, even if in reduced details and resolutions. Apart from the slightly too warm, glossy casing, the cons clearly remain in the minority. That is enough reason to give the laptop our special Best Value Award.
Slowly but surely, a familiar picture is establishing itself at the top of the subnotebook charts too. All of the three reviewed devices in March could however place themselves at the lower end of the Top Ten. The reason for this becomes obvious when looking toward the top and reading the names of the contenders.
First place is still reserved by Apple's MacBook Pro Retina 13-inch, which leads the charts with an overall rating of no less than 90% in a tie with Samsung's 900X3C to be precise. But more about that later. There is no doubt that the highlight of Apple's machine is its high-definition Retina screen with 2560x1600 pixels (227 dpi). Its elegant aluminum casing is beyond reproach, if the few interfaces are ignored. The input devices are, as usual, high quality. The mobility is also in line with a runtime of approximately 6.5 hours at a total weight of 1.6 kg. However, Apple leaves room for its Air product line and places the MacBook Pro in the performance sector featuring standard voltage processors. Apple is known for its short basic warranty of 12 months and the restricted maintainability and extensibility are irritating. It is not easy to get used to the somewhat steep surcharge that is demanded when the basic configurations are customized either.
Looking at our ranking, Samsung's elite Series 9 900X3C is quite able to compete with Apple's 13-inch Retina. Samsung also opts for 13 inches in this model, but "only" with a resolution of 1600x900 pixels. Considering the screen's diagonal, we deem that to be quite sufficient though. We believe that the screen's matte surface, in contrast to the glossy Retina, alongside the high brightness of over 400 candela in battery mode and the viewing angle stable PLS display is more important. That enables unlimited working in every weather condition, indoors and out. The aluminum unibody casing is equal to that of the MacBook, just like its input devices. The performance of Intel's ULV platform is coherent and hardly leaves anything to be desired in office use. In view of the outstanding mobility factor, the weight of around 1.2 kg, 6-7 hours of practical battery runtime and the exceptional screen, Samsung's 900X3C is a device that frequent travelers can rely on. In the meantime, Samsung's 900X3E, which is largely based on the X3C but features a high-definition Full HD screen, has been released. The review will follow shortly.
The 11-inch UX21A from Asus along with the 13-inch UX31A Touch in fourth place follows in our Top Ten chart. The still contemporary Asus Zenbook UX31A featuring a matte, Full HD IPS screen that achieved a total score of 90% in our tests and thus positioned itself on a par with both the MBP 13 Retina and 900X3A is unfortunately no longer in our list due to the earlier review date. The UX21A is designed to be an ultra-mobile laptop with a weight of just 1.1 kilograms and matte Full HD screen. Regrettably, the battery life also suffers under this shrinking. Only just over 4 hours in practical use can be expected. In contrast to the former UX31A, the touch version is not completely convincing either. The weight has increased and the screen's surface is now glossy. This is the price demanded for the new touch-input option.
Lenovo's ThinkPad X230i is at the very top. Its origin is found in the compact ThinkPad X230 business device and various cutbacks make a price of less than 800 Euros (~$1040) possible. Omitting the IPS screen likely hurts most in this case.
Modern business users will prefer the ThinkPad X1 Carbon, which is a 14-inch ultrabook in a 13-inch casing that offers a full range of connectivity for the business field and security. The mobility is not neglected either with a weight of 1.3 kilograms and with a battery runtime of 6-7 hours. Here, we find a high-end TN screen with good brightness and matte surface (1600x900). A touch option is now also available but it cannot gain a significant advantage. Quite the opposite is true as it only adds weight in the bag.
While a well designed, although conventional business machine dubbed Dell Latitude E6330 is in seventh place, Samsung's 530U4E ultrabook budges into the ranking. It wanders on the boundary between subnotebooks and multimedia laptops. Intel's i5 ULV CPU and AMD's HD 8750M graphics at least render up-to-date games in limited details smoothly. Above that, the laptop remains ultra-mobile with a weight of 1.8 kilograms, a battery life of 5-6 hours and its matte screen.
The last participant in our Top Ten is Dell's refresh of the XPS 13 with a Full HD screen.
What's new in the office sector? Well-known names, like Dell Latitude E6530, HP Elitebook 8470p, Latitude E6430s or Elitebook 8560p, all professional business laptops, still gather at the top. However, Asus is good for a surprise in March with two new, high-placed contenders.
The Asus Pro B53V is a 15.6-inch business laptop that features a Full HD screen and Intel's Core i5-3210M CPU for performance alongside Nvidia's NVS 5200M graphics card in our test configuration. Asus dishes out the full business features in the form of a TPM module, docking port, smart card reader and display port. We were only unhappy with the distribution of the ports. The matte screen particularly stands out with its high brightness that even makes use in unfavorable environments possible. The device's low emissions and good battery life of 5-6 hours were also pleasing. The price for this bundle seems more than fair. It starts at about 900 Euros (~$1169).
The second contender that Asus places in our Top Ten charts is equally attractive. The Asus Pro B43V is the 14-inch counterpart to the aforementioned B53 and wants to attract mobile business customers with its somewhat smaller size and lower weight. The hardware in our test device is the same as in the 15-inch version. However, the buyer has to be satisfied with an HD+ screen (1600x900). Our verdict was also largely positive in this case. The input devices were impressive, the screen had a sufficient brightness and we were also pleased about the low emissions.
The last new entry is HP's ProBook 6475b. Here, the main focus is again on price. HP tries to achieve an attractive price by using an AMD platform. This undertaking is also largely successful, although HP regrettably messes up with the screen. Its already moderate brightness is throttled even more in battery mode and makes using the 14-inch laptop outdoors next to impossible.
Category: Desktop Replacement / Gaming
There were no new desktop replacement/gaming devices in for review. Many of the Top Ten ranked laptops have been in their customary place for several months. That suspiciously sounds like innovation doldrums and can ultimately be explained with the manufacturers waiting for Intel's new Haswell processors, which will be the first choice for new, powerful gaming machines. The top devices of the previous months are still recommendable for the gaming-eager audience that cannot wait until Intel's new chips are released on the market and which will perhaps make Nvidia's new graphics cards available.
Unchallenged at the top of the charts is the 17-inch Asus G75VX. The combination of Intel's i7-3630QM CPU and GTX 670MX graphics render many current games smoothly over the screen even in maximum details and native Full HD resolution. The comparatively low emissions compensate for the bulky casing with a combat weight of 4.3 kg.
Deviltech's Hellmachine is based on Clevo's P370EM barebone and combines an i7-3630QM with a total of two Nvidia GTX 670M graphics cards in our test configuration. That is enough power to play almost all up-to-date games smoothly in maximum resolution.
Schenker's XMG P722 Pro laptop is a real powerhouse and is based on the same barebone from Clevo. Schenker installs an i7-3820QM and two GTX 680M graphics cards in the casing of our test configuration. So much power has its price. Over 3000 Euros (~$3898) is demanded for our test model.
The XMG A722 is considerably cheaper. The configuration with an i7-3612QM CPU and GTX 660M graphics is available for just over 1000 Euros (~$1299).
Very few offer more gaming power for less money. For example, MSI's 15-inch GX60 that comes with AMD's A10 CPU and an HD 7970M graphics card for starting at 899 Euros (~$1168). The budget gamer proved to be a double-edged sword in our tests. While the HD 7970M could develop its potential well in many games and the device achieved an unmatched performance in this price range, AMD's CPU was a bottleneck in CPU-intensive games and slowed down the GPU considerably. Not listed in our Top Ten chart, but a device that has to be mentioned in relation to the discussion about pricing is Lenovo's 15-inch Y500. Depending on the configuration, it is in the same price range as MSI's device. However, it sports an Intel quad-core CPU and two GT 650M graphics cards. Consequently, the device even surpasses the GTX 670M GPU in our test and can excel MSI's GX60 in many games. The micro-stutters below 40 fps due to the dual-GPU solution are a drawback.
Schenker's XMG A522 is one of the few options in our chart when gaming ambitions are limited to 15-inch casings. Featuring an Intel i7 quad-core CPU and GTX 660M GPU alongside an SSD in our test configuration (from 899 Euros (~$1168)), this device still also manages to render most modern games in high details.