Alleged list of Xiaomi smartphones tipped for upcoming MIUI 12 update includes Xiaomi Mi 10, Xiaomi Mi Mix 3, Redmi K30, and Redmi Note 8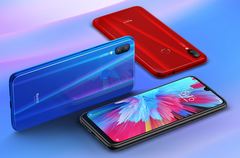 A list of alleged Xiaomi smartphones that have been lined up to receive an update to MIUI 12 has been published online. A total of 23 devices are included on the list, which features phones from both Xiaomi and Redmi brands. The Mi 10, Mi 9, Mi Mix 3, Redmi K30, Redmi Note 8, and Redmi Note 7 are just some of the popular smartphones listed.
Gizmochina has been sent a list of Xiaomi and Redmi smartphones that will apparently be the first to receive software updates for the Chinese OEM's latest Android-based skin, MIUI 12. It is an unverified list, so it should be taken with a pinch of salt for the time being. Xiaomi posted the logo for MIUI 12 on Weibo back in January and development of MIUI 11 is no longer ongoing.
The full list of Xiaomi and Redmi smartphones included on the supposed leaked list of devices that will be first to receive MIUI 12 is as follows:
Xiaomi Mi 10, Mi 10 Pro, Mi 9, Mi 9SE, Mi 9 Pro, Mi 8
Xiaomi Mi CC9 Pro, Mi CC9, Mi CC9e
Xiaomi Mi Mix 3, Mi Mix 2s, Mi Mix 2
Redmi K30, K20 Pro, K20
Redmi 8 Pro, Redmi Note 8, Redmi 7 Pro, Redmi Note 7, Redmi 8, Redmi 8A, Redmi 7, Redmi 7A
It wasn't that long ago we reported about a Redmi Note 7 possibly running on a very early build of MIUI 12, and that particular handset is included in this new list. MIUI 12 is expected to feature a new navigation bar and incorporate novel gestures, while the notification system should be getting an overhaul too. Xiaomi and Redmi smartphones not on this MIUI 12 list may still receive an update at a later date, provided this is not a fake leak.