AMD Radeon RX 5700 starts pulling away from Nvidia GeForce RTX 2060 in PassMark price-performance comparison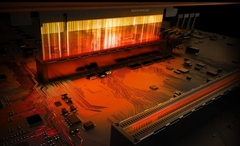 AMD's new Radeon RX 5700 has turned up on PassMark, with two samples seemingly demonstrating the price-performance expectations of the long-awaited graphics solution. The desktop graphics card now has an average G3D mark of 13,616 points, which means it is moving away from the average score produced by Nvidia's GeForce RTX 2060 rival.
At the beginning of the month, a system sporting an AMD Radeon RX 5700 graphics card appeared on PassMark and amassed a score of 12,917 in the 3D Graphics Mark test, which put it on a very similar level to Nvidia's GeForce RTX 2060 with its average score of 12,927. However, a more powerful build utilizing the new Navi-based card has pushed the Radeon RX 5700 beyond its close competitor.
The latest average score for AMD's Radeon RX 5700 is 13,616, which now puts it at a higher G3D/$Price level than its Turing-based rival from Nvidia. PassMark scores the GeForce RTX 2060 at 38.59 for value while the recently released product from the red team achieves 38.90. This sort of price-performance result was widely expected from the new desktop graphics card series coming from AMD.
The second AMD-based system involved in the benchmark featured 64 GB RAM and a Ryzen 9 3900X CPU, so it was much more powerful than the first benchmarked system that featured the Radeon RX 5700. As the data for the Nvidia GeForce RTX 2060 is based on over 1,400 tested samples, it will take quite a lot more testing of this particular AMD card before a truly accurate representation can be made. But the initial signs are certainly promising and in favor of AMD's Radeon RX 5700.