Powerful system sporting AMD's Radeon RX 5700 XT racks up colossal OpenCL score on Geekbench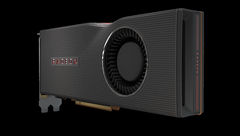 A massive OpenCL score has been recorded in a Geekbench database entry based on an AMD Radeon RX 5700 XT graphics card. The system used also sported a ROG Rampage VI Apex motherboard from Asus, Intel's Core i9-7960X CPU, and 32 GB of RAM. The Geekbench record states a score of 324,481 points for this graphics test.
Just when you thought Nvidia's Super series of refreshed graphics cards could have Navi rocking, the counter-attack from AMD seems to push the advantage back to the red team once again. We recently reported on a Radeon RX 5700 eclipsing both the RTX 2060 Super and RTX 2070 Super in OpenCL, and now it appears we have a Radeon RX 5700 XT leaving them all in the dust.
The Radeon RX 5700 XT's score of 324,481 places it very close to the top of Geekbench's current chart for the OpenCL test. Notable neighbors include Nvidia's GeForce RTX 2080 Ti on an impressive 347,679 while the GeForce RTX 2080 falls behind both with a score of 285,676. It's an incredible score by AMD's upcoming Navi-based graphics solution.
Looking through the subscores in the record shared by diligent data-hunter Tum Apisak, we can see a Particle Physics score of 1,567,129 (247,739.4 FPS). The compute performance for this system is clearly very high, and it all seems to point to the AMD Radeon RX 5700 XT graphics card delivering what is expected from it.