AMD pulled off a 'double jebait' to trick NVIDIA into reducing prices of the RTX Super GPUs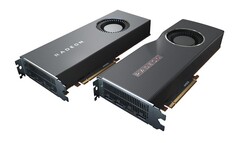 AMD's VP of Radeon Scott Herkelman recently revealed in an interview that the company keenly observed NVIDIA's launch of the RTX 20 Super series and revised the pricing of the new RX 5700 series GPUs to undercut NVIDIA's RTX 2060 and 2070 Super GPUs. The initial pricing of the RX 5700 series was deliberately kept higher to trick NVIDIA into reducing its launch prices.
The new Radeon RX 5700 series GPUs had a surprising price cut just close to their July 7 launch date. Looks like there was quite a bit of planning that went in deciding these price cuts keeping in mind the new Super cards from NVIDIA. AMD's VP of Radeon, Scott Herkelman, recently revealed in Hot Hardware's 2.5 Geeks interview that AMD did indeed 'jebait' NVIDIA into cutting their prices.
Scott revealed that AMD evaluated a lot of things about the new RTX Super cards and the likely revenue they would generate for NVIDIA. The initial prices of the RX 5700 and 5700 XT were US$379 and US$500 respectively, and this was deliberate as NVIDIA was expected to price their new Super cards lower or equivalent to the RX 5700 series.
As expected, the RTX 2060 Super and RTX 2070 Super were priced at US$399 and US$499 respectively at launch. However, soon after the Super cards were unveiled on July 2nd, AMD cut the prices of the RX 5700 and RX 5700 XT to US$350 and US$400 respectively. In Scott's words, this was a "double jebait".
The prices that we originally put out, we waited to see what they put out, and then we made the appropriate move — not only to de-position their Super series, but also to logjam their 2060 and 2070. Because we knew that they were having slower success and we wanted to do a double jebait, not only block their Super strategy, but also slow down the 2060 and 2070."
From a performance standpoint, the 5700 XT certainly offers better performance than the RTX 2060 Super and is pretty much on par with the RTX 2070 Super that costs US$100 more. Recently, we also saw that the RDNA architecture offers good scope for overclocking that can potentially get even better with driver updates.
On the whole, this makes the GPU market competitive once again and is a clever move by AMD to undercut NVIDIA's sales. If not for AMD's price reduction, the RTX 2070 Super would have been the preferred choice for someone willing to spend US$500 on their next GPU. By pricing the RX 5700 XT US$100 cheaper, AMD has made the RX 5700 XT a great option for gamers who don't mind the lack of hardware accelerated ray tracing.
Watch Scott Herkelman spill the beans at 25:35 in the video below.