NVIDIA puts the GTX 1650 Ti back on the table; SUPER related price cuts for the GTX 1660 series too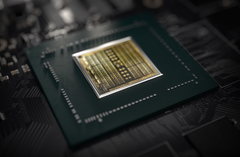 Thought that AMD and NVIDIA had ended their tit for tat game for the time being? Think again, as the green team has a response to Navi 14, which will probably be called the RX 5600 series. NVIDIA may even take a leaf out of AMD's puerile 'jebaiting' strategies, not only flooding the market with more midrange GPUs, but also undercutting existing prices too.
Working For Notebookcheck
Are you a techie who knows how to write? Then join our Team! Especially English native speakers welcome!
Currently wanted:
News and Editorial Editor - Details here

According to MyDrivers, NVIDIA will base the GeForce GTX 1660 SUPER on its TU116 GPU, the same as its uses for the GeForce GTX 1660 and GTX 1660 Ti. Apparently, NVIDIA will position the GeForce GTX 1660 SUPER between the two existing GTX 16 series cards, although pricing currently remains unknown. The GTX 1660 SUPER will support 1,408 shader units and a 192-bit bus width like the GeForce GTX 1660, but NVIDIA will equip the card with 6 GB of GDRR6 VRAM, bringing it in line with the 14 Gbps memory it uses in the GTX 1660 Ti.
NVIDIA will continue to sell the GeForce GTX 1660 and GTX 1660 Ti, probably to cover all the bases against AMD's upper-tier Navi 14 cards. By contrast, the GTX 1650 Ti will stay at 4 GB of GDDR5 VRAM and on the TU117 GPU. NVIDIA will boost its shader units to between 1,024 and 1,152 though, up from 896 in the GeForce GTX 1650. These rumoured specifications eerily resemble those listed by TechPowerUp, which still lists the GTX 1650 Ti in its GPU database.
It is worth keeping in mind that Videocardz, regularly an accurate source for graphics card leaks, has been unable to confirm these rumours at the time of writing. Hence, we would recommend employing a healthy amount of scepticism for the time being. However, delaying the GTX 1650 Ti until NVIDIA faces competition from AMD and releasing a mid-tier GTX 1660 to counter the latter's midrange offering fits exactly with the game of silly buggers in which the two companies have recently been engaged.