E3 2019 | AMD Radeon RX 5700 XT gaming benchmarks leak, shown to outpace the NVIDIA GeForce RTX 2070 in most titles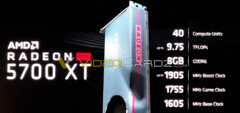 Just ahead of AMD's Next Horizon E3 2019 keynote, gaming benchmarks of the Radeon RX 5700 XT have leaked online in what appears to be an official slide from the presentation. Dubbed 'the best GPU for 1440p gaming', the RX 5700 XT seems to be ahead of the RTX 2070 in most games. However, the dual 8-pin power connector of the reference card does raise some eyebrows.
Ahead of AMD's keynote at E3 2019, official performance numbers for the Radeon RX 5700 XT have leaked online. The slide, first posted by user Spartan Geek (@SpartanGeekTV) on Twitter, shows a comparison between the RX 5700 XT and the NVIDIA GeForce RTX 2070 for 1440p gaming. This follows the specs leak of the RX 5700 XT we saw yesterday.
From the slide, we get to see that the AMD Radeon RX 5700 XT provides significant improvements over the RTX 2070 at 1440p Ultra in games such as Battlefield 5 and Metro: Exodus while showing modest improvements in most other titles. The only dips in performance were shown with Shadow of the Tomb Raider and Sid Meier's Civilization 6. A close examination of the RX 5700 XT in the slide reveals that the card has dual 8-pin power connectors. It is early to say but looks like the card will likely be a power guzzler. A new reference blower design appears to be in the offing as well.
The Radeon RX 5700 XT features 40 CUs (2560 SPs), 8 GB GDDR6 VRAM, and up to 1,905 MHz boost clock offering up to 9.75 TFLOPs of power. The card is also the first consumer GPU to use the PCIe Gen4 interface that will be supported by AMD X570 motherboards and Ryzen 3000 CPUs.
With NVIDIA about to release its 'Super' GPUs very soon, pricing will be the key to Navi's success. AMD's E3 2019 Next Horizon keynote will kick off at 3 PM PT today wherein the company is expected to talk in detail about 'Navi' and some of the semi-custom offerings for the PlayStation 5 and Xbox Project Scarlett. We might also get to see a 16-core Ryzen 9 3950X being demoed on stage as well. Needless to say, we will bring you all the juicy updates as they happen so stay tuned.