Intel's Iris Plus Graphics in Dell XPS 13 7390's Ice Lake i7-1065 G7 amasses huge OpenCL score on Geekbench; can compete with dGPUs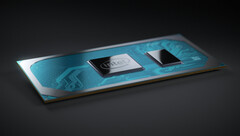 A Geekbench OpenCL benchmark score for Intel's Iris Plus Graphics has been unearthed, and it seems the Ice Lake variant of the iGPU has performed very well. The system in the test was a Dell XPS 13 convertible powered by a 10th Gen i7-1065 G7 processor. The recorded OpenCL score ended up being 61,949 points.
We have only just reported on the appearance of a recently announced Dell XPS 13 7390 2-in-1 laptop on Geekbench, and now we have another piece of information about the system and specifically its SoC. Intel's 10th Gen Ice Lake Core i7-1065 G7 processor managed decent scores in the single-core and multi-core tests, and this time it's the iGPU's turn to impress.
The Iris Plus Graphics iGPU found with the Ice Lake i7-1065 G7 apparently scored 61,949 points in the OpenCL test (as always, best to take a pinch of salt with Geekbench entries as they can be falsified). Of course, it's important to put that score in perspective. Unsurprisingly, the Ice Lake Iris Plus Graphics solution is miles away from high-end discrete graphics cards, such as the Nvidia GeForce RTX 2080 Ti (347,409 points). But it certainly thrashes the Iris Plus Graphics 655, which scored 53,310.
Intel's Iris Plus Graphics 650 languishes even further behind on 36,873 points, proving that the company's Gen 11 Iris Plus Graphics is a significant step forward. Interestingly enough, the Ice Lake iGPU's score places it between an Nvidia Quadro P1000 and an AMD Radeon RX 460 in Geekbench's OpenCL charts; both of these are discrete graphics cards. It looks like Intel just closed the gap between integrated graphics solutions and entry-level discrete ones.