Intel 'Ice Lake' Gen 11 iGPU will support DisplayPort 1.4a and Display Stream Compression for [email protected]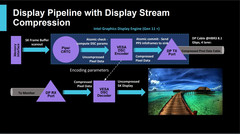 The next generation of Intel integrated graphics, the Gen 11 iGPU, will feature native support for DisplayPort 1.4a along with VESA's Display Stream Compression (DSC) enabling support for displays that can output 5K (5120 x 2880) at 120 Hz or 8K at 60 Hz. This was revealed by Intel's Linux Graphics Kernel Developer, Manasi Navare, at the recently held XDC 2018 conference. XDC is the annual X.Org Developer Conference that brings all those involved in open source graphics development under one roof.
Ms. Navare's presentation talks about the current challenges and bandwidth constraints of DisplayPort and what can be done to maximize the throughput. Current High Bit Rate 2 (HBR 2) DisplayPort 1.2 supports an effective bandwidth of 17.28 Gbps (5.4 Gbps per lane) for [email protected] output. VESA announced the DisplayPort 1.4 with HBR 3 standard in April 2016 that supports 32.4 Gbps bandwidth to drive [email protected] with HDR and [email protected] with HDR. VESA never managed to announce the release of DisplayPort 1.4a and we came to know about this in only in May this year when Taiwanese company Parade Technologies announced a new DisplayPort 1.4a to HDMI 2.0b protocol converter.
To output [email protected] (1769 million pixels per second) with 8 bpc RGB data (24 bits per pixel), we would need to have an effective bandwidth of 42.4 Gbps, which is about 10 Gbps higher than the 32.4 Gbps maximum bandwidth supported by DisplayPort 1.4a. However, application of VESA's Display Stream Compression can enable [email protected] over this standard by compressing the 24 bits per pixel RGB data into 8 bits per pixel, which equates to a bandwidth requirement of just about 14 Gbps.
Next generation Intel Gen 11 iGPUs on the 10nm 'Ice Lake' CPUs and beyond are built to take advantage of the high bandwidth offered by DisplayPort 1.4a and the 'visually lossless' compression offered by VESA's DSC to offer a far greater viewing experience than what is possible with the current generation. However, do note that this is still an iGPU so don't have hopes of gaming at those resolutions. That said, there is every possibility that we might see OEMs offering high-pixel density and high refresh rate screens in their laptops/ultrabooks next year.
The presentation also goes on to detail some of the hardware limitations with DSC and how they can be circumvented and can be viewed at the Source link below for those interested.
Though a cell and molecular biologist by training, I have been drawn towards computers from a very young age ever since I got my first PC in 1998. My passion for technology grew quite exponentially with the times, and it has been an incredible experience from being a much solicited source for tech advice and troubleshooting among family and friends to joining Notebookcheck in 2017 as a professional tech journalist. Now, I am a Lead Editor at Notebookcheck covering news and reviews encompassing a wide gamut of the technology landscape for Indian and global audiences. When I am not hunting for the next big story or taking complex measurements for reviews, you can find me unwinding to a nice read, listening to some soulful music, or trying out a new game.