Dell may introduce a touchscreen OLED display for the XPS 15 7590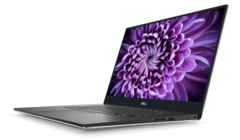 The XPS 15 7590 is nearly upon us and Dell has confirmed even more details ahead of its arrival. The upcoming laptop will be the first XPS 15 to feature an OLED display, which Dell has confirmed it shares with the Alienware m15. A touchscreen variant may be on the way too.
Dell is still yet to confirm a precise release date for the XPS 15 7590, but that has not stopped its XPS Vice President & General Manager Frank Azor from teasing more information about the upcoming 15.6-inch laptop. This time, he has clarified details about the type of OLED panels that the company plans to use in the device.
Azor confirmed on Twitter that the XPS 15 7590 and the Alienware m15 will share OLED panels. Keep in mind that every display panel is unique, so no two will have identical colour accuracy or maximum luminosity levels. However, you should still expect the two devices to generally get as bright as each other.
In the same thread Azor also clarified whether Dell is considering introducing a touchscreen OLED option for the XPS 15 7590:
Yes being considered but not committed to yet and coming anytime soon.
A touchscreen OLED could prove useful for some workflows, especially with colour critical work. If you are one of those people that would benefit from having a touchscreen and OLED XPS 15, then it may be fortuitous to hold off from buying the 7590 until Dell confirms its position.