3 laptops that perfectly complement a working holiday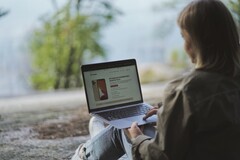 The choices and comments made on this list belong solely to the author.
1. Microsoft Surface
Whether you spring for the Microsoft Surface Laptop 4 or the pricier, sportier Surface Laptop Studio, you are getting Microsoft's latest and greatest attempt at putting the works on Apple's MacBook lineup. While the processor options on the Surface lineup are far and away not the most powerful available, there is certainly enough horsepower to get the job done. The regular Surface Laptop 4 is available in 13-inch and 15-inch display options, while the Surface Laptop Studio is available only as a 14.4-inch model. Both display sizes have a 3:2 aspect ratio.
While both the Surface Laptop and Studio offer touch and pen input, if you need dedicated Nvidia graphics to accelerate your workflow, or if you're a fan of the 2-in-1 form factor and a 120 Hz display, you should definitely get your hands on the Studio version of the laptop with the Nvidia GeForce RTX 3050 Ti - the only offering on this list to offer a dedicated GPU.
You can buy the Microsoft Surface Laptop Studio here on Amazon
2. Apple MacBook with M1
Whether you are going with the 14-inch or 16-inch MacBook Pro with M1 Max or M1 Pro, or a lightweight, 14-inch MacBook Air with the regular M1 SoC, you're sure to get solid performance and industry-leading battery life. Say what you will about Apple's policies on repair and its potentially anti-consumer practices, it cannot be denied that the tight integration and complete control over both its MacOS software and its custom SoCs make for some efficient laptops.
The entire lineup comes with the refined Apple Magic keyboard, colour-accurate Retina displays and the giant haptic trackpads we have come to expect from Apple's mobile devices. Touch ID is an added bonus for swift login.
3. Framework Laptop
This device could be seen as the "anti-MacBook," since it embraces reparability and user serviceability. The Framework Laptop can be equipped with up to an Intel Core i7-1185G7 processor, providing a balance between performance and power consumption. The main attraction here has to be the open stance on repair (even going so far as to make the firmware open-source) and the interchangeable ports, but other standout features are a 13.5-inch, 3:2 display, a 1080p webcam, and a fingerprint sensor to log in.
If you're after something like a MacBook Air but find yourself in the Windows camp or simply don't like the fact that Apple seems to hate its customers, this may be a good option for you.
My interest in tech started in high school, rooting and flashing my Motorola Defy, but I really fell down the rabbit hole when I realised I could overclock the i7 930 in my Gigabyte pre-built PC. This tinkering addiction eventually lead me to study product design in university. I think tech should improve the lives of the people using it, no matter the field. I like to read and write about laptops, smartphones, software and trends in technology.