4 maddeningly fragile reasons why Apple MacBook owners sometimes irk Windows laptop lovers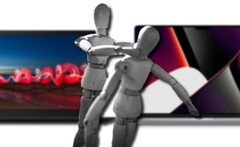 The choices and comments made on this list belong solely to the author.
Compiled by Daniel R Deakin - The choices and comments made on this list belong solely to the author and may not reflect Notebookcheck's opinions
1. Specs…tell me the specs!
It's almost definitely a generalization, but it seems that Windows-based laptop users are more likely going to be able to tell you what's inside their device rather than the average MacBook Pro or MacBook Air owner. Ryzen or Intel? Check. 8 GB or 16 GB RAM? Check. Chip clock rate or core count? Check. iGPU or dGPU? Check. These laptop buyers scour the specsheet and pore over configurations for their perfect build. Apple fanboys and fangirls simply march into their local Apple Store and ask for something in Space Gray (blank stares from the Genius Bar ensue)...probably.
2. Having to lay low in Starbucks
There are more Apples in your typical Starbucks store than a Washington State orchard. It's great to get away from your office, order a latté, sit down in a comfortable chair and open up your laptop for a little bit of light surfing or media consumption. But if you aren't in possession of the latest XPS, ThinkPad X1, or Microsoft Surface device, you should expect a lot of amused looks coming your way from owners of those shiny silver beauties with flashy fruit logos – you will soon be the deer caught in their ubiquitous lights.
3. The moribund gaming question
Got a brand-new GeForce RTX 30 series laptop GPU ready for action in your Windows-based laptop and you know the Zen 3 AMD Ryzen chip or 11th Gen Intel Core processor inside it can handle anything you're going to throw at it. No way a MacBook could handle a similar level of gaming action, certainly not natively. But sometimes you just want to play Solitaire, or laugh your way through Instagram, or maybe indulge in a bit of a Netflix binge – and all of these things are just as easy to do on a MacBook. Better get down to your local superstore and buy a copy of Call of Duty: Black Ops Cold War now, soldier, before you get converted.

4. Kidding yourself that you don't secretly want a 2021 MacBook Pro
You've used a Windows-based laptop throughout your days of education and/or working life. You love the endless custom possibilities, the more "open" ecosystem (pre-Windows 11), the ease of repair or reconfiguration. But that MacBook Pro 14 with M1 Pro SoC and that 16-inch model with the M1 Max chip...damn they look good! Fast you say? High performance levels really? Superfast integrated graphics support? Incredible displays and next-level processing prowess? All this goodness will likely lead the average hardcore Windows-based laptop devotee to dismissively mutter that immutable phrase: "yeah…but it's still a MacBook", while perhaps secretly wishing they had one but it was made by Dell or Lenovo instead.

My interest in technology began after I was presented with an Atari 800XL home computer in the mid-1980s. I especially enjoy writing about technological advances, compelling rumors, and intriguing tech-related leaks. I have a degree in International Relations and Strategic Studies and count my family, reading, writing, and travel as the main passions of my life. I have been with Notebookcheck since 2012.