4 laptops to consider if you're not a fan of MacOS but want something like a MacBook Pro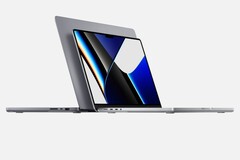 The choices and comments made on this list belong solely to the author.
1. The ASUS ProArt Studiobook 16 OLED
Whether you're a creator on the run from the law, or simply working from home or in a hybrid-work-from-home situation, the ASUS ProArt Studiobook 16 OLED should be a strong contender for top spot on your list of lap-filling powerhouses. As the name suggests, it comes equipped with a colour-accurate 16-inch, 4K OLED display with Pantone and HDR500 certification to boot.
Equipped with up to a Ryzen 9 5900HX and NVIDIA GeForce RTX 3070, this sleek monster is sure to more than keep up with even the latest M1 Max in the new MacBook Pro laptops. The design is nothing to turn your nose up at either, with a sleek dark grey that ASUS is calling "Star Grey," and while not thin, its performance certainly justifies the 24.1 mm (0.84 inch) profile.

Buy the modestly equipped i7, RTX 3060 Studiobook Pro on Amazon
2. HP Envy Laptop (or Envy x360 if you're feeling fancy)
Both the HP Envy Laptop 15 and HP Envy x360 15 can be equipped with powerful and efficient Intel 11th gen or AMD Ryzen 5000-series processors and in the case of the Envy Laptop 15, even an NVIDIA GeForce RTX 3050 Ti GPU. While not quite on par with the M1 Max processors, these are certainly up to the task of most productivity workloads and even moderate content creation and gaming.
The Envy Laptop lineup is available with up to a 400-nit 4K touch display with 100% sRGB coverage, while the more versatile Envy x360 15 is only available with up to a 300-nit 1080p display with 100% sRGB coverage. While the display on the convertible isn't quite as sharp, this does mean it is more efficient and you get the added cool factor of using it as a tablet with any Microsoft Surface Pen or your finger.
3. Dell XPS 17 with RTX 3060
Large and in charge, the Dell XPS 17 is not here just to play. It comes equipped with up to an 8-core Intel Core i9-11900H and a 70 W NVIDIA GeForce RTX 3060 laptop GPU. All contained and cooled within its 17-inch, 19-mm thick aluminium chassis. The XPS 17 is also no slouch in the display department, coming equipped with either a non-touch, 500-nit, FHD+ (1920x1200) display, or a touch-enabled, 4K, 500-nit display. At this size, 4K is probably the right choice, though, especially considering it is far more accurate with 100% Adobe RGB and 97% DCI-P3 coverage.
4. Microsoft Surface Laptop Studio
The Microsoft Surface Laptop Studio is probably about as close to the MacBook Air of the Windows world. It is made by the same company that makes the operating system, aims at the same hip creative type and even has about the same level of repairability! It sure is pretty though, with its rounded corners and unique take on the convertible form factor, able to be in laptop mode, angled canvas mode, or a flat tablet mode - all of which use strong magnets to snap into place.
The Surface Laptop Studio is available only with 11th gen quad-core Intel Core i5-11300H or i7-11370H processors and up to 32 GB of RAM (the i7 model is even available with an NVIDIA GeForce RTX 3050 Ti GPU!). These are from Intel's H35 lineup, which are processors designed to slot in between the low-power U-series and the high-power H-series commonly found in gaming machines, making them perfectly acceptable for most daily tasks that Microsoft expects you to use this device for.
The Surface Laptop Studio is equipped with a 14.4-inch, 2400x1600 3:2 aspect ratio, 120 Hz display. Those display specs mean it is the most unique display on this list. While it may not be for everyone, if you're looking for an ultra-sleek art machine, this may be the one for you.
My interest in tech started in high school, rooting and flashing my Motorola Defy, but I really fell down the rabbit hole when I realised I could overclock the i7 930 in my Gigabyte pre-built PC. This tinkering addiction eventually lead me to study product design in university. I think tech should improve the lives of the people using it, no matter the field. I like to read and write about laptops, smartphones, software and trends in technology.