Windows 11 taskbar downgrade and 3 other ways Microsoft is making its ubiquitous OS worse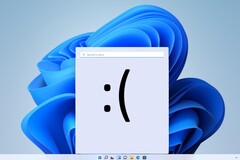 The choices and comments made on this list belong solely to the author.
1. Forced TPM...more or less
When Microsoft launched Windows 11, it automatically excluded millions of Windows PCs by requiring TPM 2.0 and Secure Boot to install Windows 11. Enthusiasts and turbo nerds later discovered, and Microsoft confirmed, that you could install Windows 11 on incompatible hardware if you really wanted to — all it takes is some registry tweaking or tricking a Windows 10 installer into installing Windows 11.
Microsoft, despite providing documentation on how to do it, still doesn't recommend installing Windows 11 on unsupported hardware, citing security concerns. Many users who were eager to try out the software decided that Microsoft can take its security concerns elsewhere. If you are keen to try Windows 11 and have unsupported hardware, there are many guides available online.

2. Just a visual upgrade?
Microsoft spent a lot of time talking about how the engineering team retooled a lot of the underlying code of Windows 11. The resulting operating system and user experience is largely the same, though. Apart from a minor refresh and some new animations, Windows 11 is basically a polished version of the Windows we've all come to both love and loathe.
Minor changes are not entirely a bad thing, though — a huge change in an operating system's interface is dangerous and will lead to user complaints. Perhaps the iterative nature of Windows 11 is Microsoft playing 4-D chess — why fix what isn't broken, right?
3. Downgraded Start menu and Taskbar
Windows 11 received a few useful new features when it came to market — new right-click context menus, rounded corners, and an updated file explorer. One area where Windows 11 went backwards is the Start menu and taskbar. Windows 11's taskbar functionality pales in comparison to what you find in Windows 10 in a few significant ways — you cannot easily resize the taskbar to buy back precious monitor real estate or move it from the bottom edge of the display.
Windows 11's Start menu is one of the biggest changes — Microsoft moved away from the live tiles and app list found in Windows 10 and implemented a grid-style app tray, similar to what you would find on most Android devices. The Pinned Apps page can be rearranged, and Microsoft recently added folders to the Start menu, but there is no indication that Microsoft will ever let users repurpose the Recommended portion of the Start menu.
Overall, it seems like Microsoft is removing options from Windows 11 users — a curious move, considering Windows is known to be a power user's operating system.
If you're on the hunt for a new laptop, the Samsung Galaxy Book2 Pro features Intel's 12th-gen processors and is available on Amazon.
4. Microsoft account insistence
Microsoft has long been trying to get people to use a Microsoft account when first signing into Windows — on Windows 10, you could skip the Microsoft account sign-in by simply disabling the internet connection. With Windows 11, you have to open task manager through the command prompt and kill a specific process — a workaround that many would not be comfortable or knowledgeable enough to use.
Microsoft's insistence on signing in with an account will most likely drive away people with little or no internet connection — a consequence that shows Microsoft isn't interested in catering to everyone anymore. Will legacy compatibility be the next victim of progress?
My interest in tech started in high school, rooting and flashing my Motorola Defy, but I really fell down the rabbit hole when I realised I could overclock the i7 930 in my Gigabyte pre-built PC. This tinkering addiction eventually lead me to study product design in university. I think tech should improve the lives of the people using it, no matter the field. I like to read and write about laptops, smartphones, software and trends in technology.