4 controversial laptop trends that should never have made it mainstream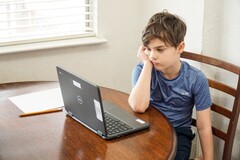 The choices and comments made on this list belong solely to the author.
1. Inadequate equipment
In 2022, we should collectively, as a species, do our best to move past sub-1080p displays, 4 GB of RAM and eMMC storage on anything short of the most basic Chromebooks. Any self-respecting laptop manufacturer should rethink their life choices if they are still selling laptops with any of the aforementioned specifications with no way to upgrade them.
Another aspect of equipment that's often overlooked and ill-thought-out is thermal and power design. What's the point of sticking an Intel Core i9 processor into a laptop if it's going to throttle so hard that you may as well have bought the Core i7 model?
2. Misleading specifications and branding
All of the major CPU and GPU manufacturers have done this to some degree. Nvidia, after aligning its desktop and mobile parts with the release of the 1000-series GPUs, has gone back to its old ways with the release of the GeForce RTX 3000-series GPUs, where the desktop and mobile parts have different core counts entirely, resulting in vast performance differences. With the likes of the GeForce GTX 1000 and RTX 2000 families, the biggest differences between desktop and mobile GPUs were the clock speed and thermal envelope.
Intel and AMD have been guilty of this in the past. Previously, the only difference between Intel's Core i5 and Core i7 U-series processors was a small clock speed bump, 2 MB of cache and the price. At least after the release of Intel's 8th-gen Core-series processors, we have been treated to a proper lineup of parts with varying core counts. AMD more recently fell into a similar trap by releasing the Ryzen 7 5700U under the Ryzen 5000 series branding, when it is really an optimised and tweaked Ryzen 4000-series processor.

3. The horrific ports situation
Many claim that Apple should bear the blame for this one, since it boldly decided to start eliminating ports on the MacBooks in the early 2010s. Ever since then, manufacturers have followed down the same path, leaving but one solitary USB type-A port in many cases, while in other cases, such as Dell's XPS lineup, opting to remove them entirely in favour of USB type-C and Thunderbolt ports.
Some designs, like the new Dell XPS 13 Plus even omit the 3.5 mm audio jack. While USB type-C is fantastic, as any tech-head can attest, more ports are always welcome - especially for those of us that like wired peripherals.
This 17-inch HP Laptop eschews all of the aforementioned faux pas and is available on Amazon
4. Repair and upgrade are relegated to the history books
Once upon a time not too long ago, it was commonplace for laptops to have little doors on the bottom that allowed access to upgrade hardware such as RAM, storage and even wireless cards. Those days are long gone by now. This is another painful trend that one may easily attribute to Apple and its policies on repair. Over the years, manufacturers seem to be becoming more hostile to the idea of users opening their devices to perform basic maintenance and upgrades to their devices.

This has become such an issue to some that they have opted to start companies of their own that embrace the concept of reparability and sustainability, like with the Framework Laptop.
My interest in tech started in high school, rooting and flashing my Motorola Defy, but I really fell down the rabbit hole when I realised I could overclock the i7 930 in my Gigabyte pre-built PC. This tinkering addiction eventually lead me to study product design in university. I think tech should improve the lives of the people using it, no matter the field. I like to read and write about laptops, smartphones, software and trends in technology.