Notebookcheck's Top 10 Tablets
March 2014 update. Here you will find the current best tablets reviewed by Notebookcheck in the last few months. Our list of top models is regularly updated, maintained and commented on and should assist in purchasing decisions.
For the original German article, see here.
Almost every manufacturer of notebooks or smartphones now offers at least one and sometimes several tablets. This development is not really surprising, as the mobile browsing, mail, and gaming companions have taken a good chunk out of overall notebook sales. It isn't only the premium manufacturers that are trying to take advantage of this trend, but also the cheaper brands. Most of these use inexpensive components manufactured in China, tend to emulate successful designs, and compete predominantly on price. So far, none of the bargain-basement tablets have managed to earn a spot in our exclusive top 10 list, which is dominated by the stalwarts and led by the big players of the industry.
Notebookcheck's Tablet Charts, effective February 2014
Editors' Comments
Traditionally, the Mobile World Congress in Barcelona takes place in February. Meanwhile, it is probably the most important trade show for the smartphone and tablet industry. Many manufacturers delay new products until this date. So, major highlights are rare during these weeks. This is also proved by the devices we had under review in February 2014. First of all, we only reviewed three models, and none of these was really exciting. Finally, one tablet made it into our Top-10. The HP Slate 8 Pro 7600eg is a wolf in sheep's clothing. The manufacturer did not make a great fuss about the rather inconspicuous 8 inch device. With its very fast hardware and high-res display, it currently belongs to the best smartphones this size. In addition, it remained affordable. The Gigaset QV1030 features the same SoC as the HP Slate 8 Pro, but looses points in other aspects. The same is true for the Samsung Galaxy Tab 3 7.0 Lite, which had bad preconditions from the start. The saving is simply to apparent and the 7 inch devices is probably the worst tablet from Samsung we have ever come across so far.
So far, tablets from HP were relatively cheap, technically unremarkable and looked ordinary. The latter is also completely true for the HP Slate 8 Pro 7600eg. However, it has a lot to offer technically without skyrocketing price. HP uses a processor from Nvidia. Without doubt, the Tegra 4 currently is one of the fastest SoCs on the market, but eked out a niche existence so far. However, it is still not a bad choice, which was impressively proved by our benchmark tests. The HP Slate 8 Pro hardly has serious competitors in the 8-inch class. Only Apple, Samsung, and Toshiba offer 8-inch tablets with similarly high performance. In addition, HP does a lot right in other aspects. The build quality is good, the high-resolution display is bright and contrast-rich, and the battery life is long. But, there are reasons why it could not take the lead. It lacks a 3G module, which is also not available for a surcharge. The camera shoots relatively bad photos, the Android version is not completely up-to-date, and the power adapter annoyed us with a continuous buzzing noise. Furthermore, a 12 months warranty is not really long. Nevertheless, the HP Slate 8 Pro remains one of the most interesting 8 inch tablets currently available.
This cannot be said about the 10.1 inch Gigaset QV1030. While the name Gigaset is still highly appealing, the phone specialist blundered with its tablet debut, the QV830. It would have been a better strategy to start with the more high-end device. Alike the HP tablet, it features an Nvidia Tegra 4, and the display has a very high resolution. 2560 x 1600 pixels - currently only high-end models like e. g. the Google Nexus 10 and the Samsung Galaxy Note 10.1 2014 Edition feature such a high resolution. In our test, the Gigaset tablet performs well in general. The performance is high, and the display is good. Nevertheless it did not suffice for a place among our Top-10, since the range got small there. So, it is impossible to get there with weaknesses. The cons of the Gigaset QV1030: modest material and build quality, weak web cam, and the memory is only expandable by 32 GB.
It usually gets exciting, when a Samsung tablet comes into our test lab. But, the Galaxy Tab 3 7.0 Lite is completely different. The specs show, that Lite does not mean light, but pared-down. In plain English: The Koreans removed further features from the already rather weak entry-level tablet, in order to be suitable for the low price-segment. And indeed the Galaxy Tab 3 7.0 Lite is nothing but a cheap tablet. The stable case is made from simple plastics, Samsung dispensed with a front camera, and the main camera only has a resolution of 2 MP instead of 3 MP. Furthermore, you'll notice the saving immediately when looking at the display: high black value, modest contrast, poor viewing angles. The only pros are battery life and low operating temperature. Its price is also hardly a purchase incentive. Samsung decreased the price, but the fully fledged Galaxy Tab 3 7.0 is currently even cheaper. So, Samsung could have omitted the cheap model.
Award: HP Slate 8 Pro 7600eg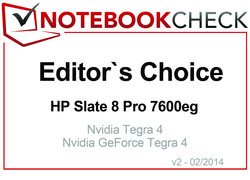 There are many cheap 8 inch tablets, which could only achieve a low price by sacrificing quality, but there are only a few really good representatives. With the HP Slate 8 Pro 7600eg another very good tablet has been added. Thanks to fast hardware, high-res display and good build quality, HP delivers a balanced bundle with high performance for a fair price. 3G is not available. The HP Slate 8 Pro 7600eg is a good deal for those who can do without. So, we assigned it our "Editor's Choice" award.
Awards of the previous months
Daily updated, automated top list
of the last 9 month
1

2

3

4

5

6

7

8

9

10