Epic issue Fortnite Android beta scam warning and Thanos gets nerfed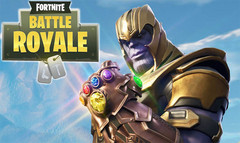 A representative for Epic Games has confirmed that an email inviting people to participate in a Fortnite Android beta is a phishing scam. Gamers have been warned not to share any personal information if they receive such an email. Also, Fortnite's guest villain, Thanos, has had to be nerfed due to player feedback in regard to his destructive powers.
An article on US Gamer has pointed out a tweet from Nick Chester, who carries out PR work for Epic Games, stating that the email claiming to be an invitation to the Fortnite Android beta is an "obvious phishing scam." Anyone receiving this email should avoid entering any personal information; otherwise they may find their private details become compromised. Notebookcheck speculated that YouTube videos espousing the details of the invitation were likely clickbait, and that the best course of action for a Fortnite fan was simply to update their official Epic Games account settings for receiving updates.
In other Fortnite-related news, it seems Thanos has already been nerfed due to his awesome abilities. Epic posted a message on Reddit to highlight the new stats for the bane of the Avengers (and non-Infinity-Gauntlet-bearing players). His shield cap has been decreased from 300 to 200 and laser damage has been reduced from 15 to 12. During this special crossover event, players who manage to pick up the Infinity Gauntlet turn into Thanos. Wiping out the competition becomes somewhat easier, but the newly transformed Thanos Fortniter also has to deal with being publicly targeted on the game map.