Epic Games offers US$100 million funding for Fortnite tournaments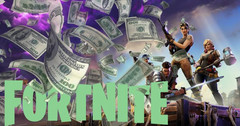 Epic Games has published a news post announcing the company's intention to offer US$100 million in prizes for Fortnite tournaments taking place over the 2018-2019 season. This is a massive boost to the burgeoning eSports sector, which has thoroughly embraced mobile gaming. Fortnite is expected to be released on Android in summer.
It seems Fortnite is heading for big-time eSports involvement thanks to a massive provision Epic Games is intending to make. The Maryland-based video-game designer has pledged US$100 million to fund prize pools for future Fortnite tournaments. Epic Games has stated that the funding will be provided for the 2018-2019 season, although no details about actual competitive events have been mentioned yet.
This will be seen as good news by those involved with the eSports industry. This particular gaming sector has witnessed impressive growth over recent years and has championed the rise of mobile competitive gaming. Epic Games points out that inclusivity is an important factor to the company's huge contribution; mobile gaming events are believed to be more appealing to female participants than those based around PC or console titles.
Fortnite is scheduled to be released for Android in summer, and in combination with this latest announcement in regard to the US$100 million tournament investment, it seems the battle royale juggernaut will continue to smash any record that crosses its path.