RED Hydrogen One holographic smartphone coming to AT&T and Verizon soon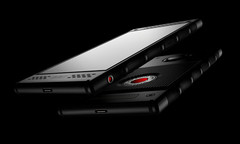 It appears the innovative RED Hydrogen One smartphone is to be made available through AT&T and Verizon. Pre-orders for the novel device that sports a holographic screen are no longer being accepted at RED's website, whereas Verizon is allowing those interested to sign up for updates. AT&T is planning a demo for the RED Hydrogen One in Los Angeles, June 2-3.
Notebookcheck reported on the RED Hydrogen One smartphone back in July of last year, but the device has still not been officially released. However, both AT&T and Verizon are now stating that they will be carrying the unique handset as part of their respective ranges. Most of the interest surrounding the mysterious RED Hydrogen One is in regard to its purported holographic display. The 5.7-inch phone has a screen resolution of 2560x1440 pixels, contains a 4,500 mAh battery, operates on Android, and it is apparently powered by a Snapdragon 835 SoC.
The RED Hydrogen One phone does not come cheap. RED, a digital cinematography company based in California, had offered the device for pre-order but this is now closed. The aluminum version of the Hydrogen One has a current advertised price of US$1,295 while the titanium variant will set you back US$1,595.
The obvious unique selling point of the device is what RED calls a "5.7' PROFESSIONAL HYDROGEN HOLOGRAPHIC DISPLAY." According to the product details, the smartphone utilizes nanotechnology that aids with switching between 2D content, 3D content, and "holographic multi-view content."
As Digital Trends has been quick to point out, those hoping for a pop-out hologram display, akin to R2-D2 beaming Princess Leia's call for help to Luke Skywalker and Obi-Wan Kenobi in the original Star Wars movie, will be disappointed. Think more along the lines of the Nintendo 3DS rather than astromech technology from a galaxy far, far away.
Verizon is not offering a release date for the Hydrogen One, simply stating the future availability of the device with that particular carrier. AT&T, however, has scheduled a demo of the smartphone that will take place in Los Angeles, June 2-3.