RED dangles a fig leaf for HYDROGEN One owners as it cancels its HYDROGEN smartphone project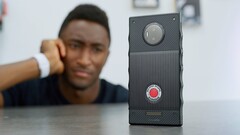 Did you buy into the RED HYDROGEN project? Well, founder Jim Jannard has announced that the company is being wound up, effectively canning the HYDROGEN Two. However, there could be some positive news on the horizon for HYDROGEN One owners, with the release a much-anticipated camera accessory imminent, apparently.
So, RED HYDROGEN is no more, but HYDROGEN One owners may soon be able to buy a camera accessory for their much-delayed smartphone. Announced on H4Vuser.net, founder Jim Jannard has coincided ended the end of the RED HYDROGEN project with his retirement, although it remains to be seen whether either are with immediate effect.
The statement essentially confirms that the HYDROGEN Two has been cancelled, but the HYDROGEN One has not been put out to pasture just yet. Jannard has promised that the smartphone will "continue to be supported in the future", but we doubt that this means the company has plans to release the accessories it originally had planned for the device. The details of which remain unknown, although a compatible camera module could still arrive.
Jannard claims that the RED Komodo is "about to be launched", the specifics of which are also unclear. Earlier this year he confirmed that the camera sensor would be compatible with the HYDROGEN One, so that is a positive of sorts.
While the company has received vociferous criticism on websites like Reddit, RED fans have been supportive of Jannard's decision. Second-hand HYDROGEN One handsets are selling for as little as US$235 online, a huge markdown from its outlandish US$1,300 retail price. You can also still buy a new unit for US$645 from RED, although there are many better smartphones on the market at that price. Keep in mind that the device remains on Android 8.1 Oreo though, and we would not guarantee ever seeing even Android 9.0 Pie running on the device.
It would be easy to chalk the HYDROGEN One as a failure, or a well-intentioned project that never met expectations if we were being kind. What do you think? Did you buy into the RED HYDROGEN project?