Nvidia releases GeForce GTX 1050 (3 GB) GPU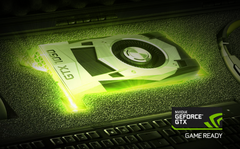 A new variant of the GeForce GTX 1050 GPU has been spotted on the Nvidia website. The latest addition to the GTX 1050 series is the GeForce GTX 1050 (3 GB). The GeForce 10 series was released in 2016, and the GTX 1050 GPU originally came in the forms of a 2 GB base model and a 4 GB Ti model.
It seems while everyone has been focused on the delayed release of Nvidia's GTX 11 Series, the California-based GPU specialist has found time to slip in a new model in its GTX 1050 line-up. Sandwiched between the 2 GB GeForce GTX 1050 and the GeForce GTX 1050 Ti, the new 3 GB GeForce GTX 1050 is believed to be aimed at gamers who want to upgrade from the base model but don't want to shell out for a Ti variant.
The GeForce GTX 1050 (3 GB) offers a total of 768 CUDA cores, which is more than the 2 GB model (640). The base clock speed and the boost clock speed are higher than those of both the 2 GB and Ti variants. However, the new GPU comes with a lower 96-bit memory bus (the other two 1050 GPUs have 128-bit interfaces) and therefore a lower memory bandwidth of 84 GB/s. It is expected the 3 GB of GDDR5 memory should help the new entry operate up to 10% quicker than the 2 GB version, according to an Nvidia spokesperson.