More details about the Nvidia GeForce GTX 1180 surface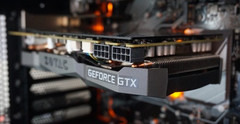 An entry for the upcoming Nvidia GeForce GTX 1180 graphics card has been made in TechPowerUp's GPU database. Notebookcheck already reported on rumors surrounding the next-gen GPU and the data that has now surfaced online seems to support some of the expected specifications, including 3584 shading units and a 256-bit memory bus.
TechPowerUp's GPU database has been updated with information in regard to Nvidia's upcoming GeForce GTX 1180 GPU. The page offers a suitable disclaimer, stating that the data shown is subject to change. However, the information offered should give those interested in the matter some idea of what to expect from the Californian company's next-gen card.
According to the data, the GPU is based on Volta architecture using a 12 nm process. In regard to graphics processing, the GTX 1180 is listed with 3584 shading units, 224 texture mapping units, and 64 render output units. The base GPU clock speed is a reported 1405 MHz with a boost clock of 1582 MHz.
The data offers specific details in regard to the board design, too. Apparently, 1x HDMI and 3x DisplayPort outputs will be on offer and the thermal design power is set to 200 W. 16 GB of GDDR6 RAM connected by a 256-bit memory interface should put a smile on any gamer's face. For full details of the expected specifications, see the image below.