Apple may be working on a circular-shaped smartwatch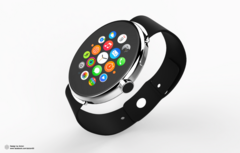 A patent has been granted to Apple for an "electronic device having display with curved edges." The patent was filed in January 2016 and features a number of images that could easily be described as potential smartwatch displays. Producing a circular smartwatch would be something of a design departure for the Cupertino-based company.
Apple has been awarded a patent from the US Patent and Trademark Office for an "electronic device having display with curved edges." It is widely believed this filing refers to a potential smartwatch design, and the text of the patent does specifically mention the time-keeping accessory in the description:
This relates generally to displays, and, more particularly, to displays with curved edges. Electronic devices such as cellular telephones, computers, and wristwatch devices often include displays.
Of course, it can be taken from that description that Apple is possibly planning on creating a revolutionary circular iPhone, but it's much more likely attributable to a smartwatch. However, rumors in regard to the next series of the Apple Watch hint at a larger display, not at a circular design.
A technology company the size of Apple files a lot of patents and there is always the possibility that nothing will come to fruition in regard to this particular application. Smartwatches with circular designs are not a new concept; the Moto 360, Huawei Watch, and LG Watch Urbane all have round faces. But Apple is known for taking pre-existing designs and improving upon them – so maybe a circular Apple Watch is in the works?