Updating to watchOS 5.1 bricks some Apple Watches; Apple working on fix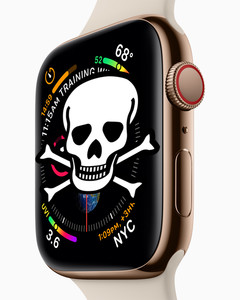 Some Apple Watch Series 4 users have reported that updating their wearable to watchOS 5.1 bricked their device. After rebooting the Watch when installing the update, the device would freeze on the Apple logo and become unresponsive. Apple has since pulled the update and is working on a fix. In the meantime, affected users have been instructed to contact AppleCare for assistance.
Here's yet another reason why it's usually a best practice to wait a few days before grabbing the latest update. Apple's watchOS 5.1, which was released October 30th, is apparently bricking some Apple Watches, prompting Apple to pull the update.
The bug would cause something akin to a bootloop; after installing watchOS 5.1, the affected users' wearables would freeze on the Apple logo upon restarting. At this point, there was little that could be done; restarting the watch would yield the same result.
In response, Apple pulled the update yesterday as "a precaution." Apple instructed affected users (which were admittedly few in number) to contact AppleCare, Apple's in-house service team. Apple Watch Series 4 wearers that were able to successfully update their device don't seem to be in any trouble.
Apple has stated that they are working on a fix but hasn't given any further information. As with most mobile devices, it's usually best to wait a while before installing the latest software. After all, the early worm gets eaten by the bird.