Sensational Xiaomi Mi Mix 4 poster leaks reveal beautiful Mi Mix Alpha-like design and killer specs that will destroy the competition: Snapdragon 875, 150 MP main camera sensor, 2K resolution, and much more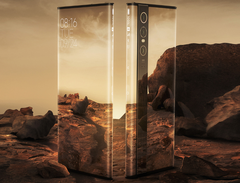 Two separate promotional poster leaks in regard to the Xiaomi Mi Mix 4 have been reported by noted tipster Xiaomishka. While the leaker claims to have received a poster from a Chinese colleague that reveals the design and supposed main camera specifications of the Mi Mix 4, a further poster-related leak on Weibo has seemingly revealed the key component specs for the upcoming smartphone, although this latter leak should definitely be taken with a pinch of salt. While some have opined that the Xiaomi Mi Mix 4's main rival will be the Huawei P40, if the alleged specs are genuine, then the Xiaomi smartphone could end up being 2020's best smartphone.
Starting with Xiaomishka's own leak, which is more likely to be real, the promo poster in question reveals that the Xiaomi Mi Mix 4 will copy the beautiful design of the Mi Mix Alpha concept, meaning that the display will curve round the edges of the smartphone and cover a part of the rear side. On the rear of the "unofficial poster" there is a camera housing that looks similar to that of the Huawei P40 but is horizontally aligned as opposed to vertical. According to the text, there is a 150 MP main camera, 40 MP wide angle sensor, 20 MP portrait lens, and a ToF sensor. An included periscope camera offers an impressive 120x digital zoom. The front-facing selfie camera, which appears to be an under-display unit, apparently offers users 40 MP to play with.
Before moving on to the next leak, it's important to point out that the abovementioned leaked poster (see image below) could easily be a photoshopped Mi Mix Alpha with a P40 camera module placed on it, so keep pinching that salt. The next set of rumors comes from Weibo, thanks to an image depicting a pile of Xiaomi Mi Mix 4 promo posters scattered on a table. It's clear to see mention of a Snapdragon 875 SoC, 100 W fast charging (maybe this will become 120 W in future), 65 W wireless charging, and a 2K resolution display that offers a refresh rate of 120 Hz.
These are astonishing specifications for a potential Xiaomi Mi Mix 4, which would possibly blow the rival Huawei P40 out of the water if the right software and RAM + storage amounts were also implemented. Price would also be a key factor: The Huawei P40 currently costs from £699.99 (US$881) in the company's UK store and a Xiaomi Mi Mix 4 with these kinds of awesome specifications would cost much more, especially with Xiaomi's more "vigorous" pricing policy for international markets nowadays. But going by these new leaks, the Mi Mix 4 is not so much a flagship-killer but more of a new flagship-paradigm for 2020.
My interest in technology began after I was presented with an Atari 800XL home computer in the mid-1980s. I especially enjoy writing about technological advances, compelling rumors, and intriguing tech-related leaks. I have a degree in International Relations and Strategic Studies and count my family, reading, writing, and travel as the main passions of my life. I have been with Notebookcheck since 2012.