PlayStation 5 disc edition, Marvel's Spider-Man: Miles Morales, and Call of Duty: Black Ops Cold War appears to be the dream package according to next-gen console pre-order survey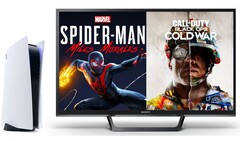 A next-gen console pre-order survey report by VGM, via GamesIndustry.biz, has offered some interesting details about what is driving pre-orders and what hardware/software is proving to be most popular. The survey involved just 511 people who are based in the US, so it's quite a small sample, but it can provide a snapshot of general trends. Unsurprisingly, the disc edition of the PlayStation 5 was the number one choice for those that had managed to make a console pre-order, with 72% of this fortunate portion of respondents plumping for Sony's disc-based console. However, this 72% came from a total of only 15% that had made a successful pre-order.
The Xbox Series X was selected by 30% of those surveyed, with the PS5 Digital Edition grabbing 10%, and the Xbox Series S scooping 8%. Judging by the percentages, it seems some of those in the fortunate 15% that had pre-ordered a next-gen console actually made multiple pre-orders. Tellingly, 29% of the 511 people involved said they had tried to make a pre-order but had failed to accomplish the task. For this, the PS5 with Blu-ray was once again the most popular choice at 58%, with the Xbox Series X on 40%, PS5 Digital Edition on 21%, and Xbox Series S on 11%.
Mainly driving PS5 pre-orders was the thought of playing exciting exclusives, with Marvel's Spider-Man: Miles Morales (52%), God of War: Ragnarok (42%), and Final Fantasy XVI (32%) topping the choices. For the Xbox Series consoles, it was Halo Infinite (45%), Fable (26%), and Forza Motorsport 8 (24%) pushing pre-orders, although it seems those considering an Xbox Series X/S purchase were actually more interested in subscription services such as Game Pass rather than the temptation of exclusive titles.
Lastly, in terms of multi-platform games, it was Call of Duty: Black Ops Cold War that amassed the most support in this particular survey, with 45% of the respondents looking forward to playing the game on either of the next-gen consoles. In second place was Assassin's Creed: Valhalla on 31%. So it appears that the most desired package overall in this instance is the Blu-ray PS5 console with both Miles Morales and Black Ops Cold War to play, but it's also plain to see that both Microsoft and especially Sony have some next-gen console pre-order issues that still require ironing out.
My interest in technology began after I was presented with an Atari 800XL home computer in the mid-1980s. I especially enjoy writing about technological advances, compelling rumors, and intriguing tech-related leaks. I have a degree in International Relations and Strategic Studies and count my family, reading, writing, and travel as the main passions of my life. I have been with Notebookcheck since 2012.