Interview | "Our community has empowered us": OnePlus India's Vikas Agarwal shares his thoughts on Nord, smart TVs, and plans for smart wearables in an exclusive chat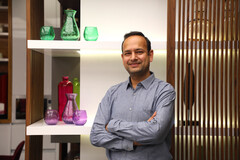 Working For Notebookcheck
Are you a techie who knows how to write? Then join our Team! English native speakers welcome!
News Writer (AUS/NZL based) - Details here
OnePlus has officially entered flagship territory with the recent OnePlus 8 series launch. The 8 series has proven to be extremely beneficial for OnePlus and has catapulted the company to the top of the Indian premium smartphone market.
However, the 8 series also had to face criticism from some quarters, who felt that the company has started to veer away from its "flagship killer" roots. Some of those concerns were assuaged with the launch of the OnePlus Nord smartphone.
That being said, competition in the mid-range space, especially in Asian and European markets, is extremely cut-throat and price-sensitive, and smartphone makers are constantly looking to distill erstwhile flagship features to lower price points.
In light of these developments, we recently caught up with Vikas Agarwal, General Manager-India, OnePlus, over email to understand the strategy behind the Nord smartphone, TVs, possibility of more budget offerings, and expansion to other markets and product categories.
Vaidyanathan (VS): What all new price segments is OnePlus targeting? Are they unique to India or will they be implemented globally as well?
Vikas Agarwal (VA): The launch of OnePlus Nord and our new U and Y series of OnePlus TVs is in line with our new global business strategy that is focused on providing a premium technology ecosystem that is accessible to users across various price points based on the needs and expectations of our user community.
While we are adapting our business strategy for more sustainable growth, our philosophy remains the same: we are focused on creating the best in class experiences for our users. Through our new range of products, we aim to keep up the promise of offering the premium user experience OnePlus is known for while also catering to the needs of consumers in the mid-range segment who are looking for a quality technology product that can effectively cater to their day-to-day needs.
In line with this strategy, the OnePlus TV Y and U series range between INR 12,999 (US$177) - 49,999 (US$679) to cater to entry-level and mid-segment users looking for best-in-class features within their price segments. The OnePlus Nord, starting from INR 24,999 (US$340) also makes the OnePlus premium user experience more accessible to consumers.
At OnePlus, when we introduce new products, we do so on a small scale focused on a few key markets. Once we are ready, we will look at expanding to additional markets. This has also been our approach in the past, and it has worked well for us. In terms of our latest launches, the OnePlus Nord is currently available for our community in Europe and India while our OnePlus TVs are only India-focused offerings.
VS: Are there plans of launching phones below the Nord's segment as well?
VA: As a growing company, we are always looking at new opportunities to fuel our growth. The launch of Nord is a step further in our promise to make products more accessible across new price segments. Our community plays a fundamental role in our product development strategy and we continue to work on numerous projects to cater to their ever-evolving needs and improve our offerings based on the feedback we receive from them. Should we see significant demand from our community in the future, we will definitely evaluate and proceed accordingly.
VS: As you keep lowering the price, the scope for offering more performance and/or unique features keeps getting narrower. Also, we have a sea of smartphones from your competitors that are launched almost every week in lower and mid-range price segments. How do you plan to differentiate yourselves from the rest?
VA: As we continue to grow our product offerings and reach out to new consumers across different price ranges, we still endeavor to remain true to our product philosophy that is focused on creating a premium, burdenless experience for our users. It is this commitment to our community that has always ensured we remained a class apart and we are continuing in the same direction with OnePlus Nord.
Furthermore, given the success of our flagship line up, we are confident in our prowess to create a device that caters to the mid-tier segment and provides a refined user experience that incorporates the beloved features of our flagship device like cameras, OxygenOS, and the OnePlus quality of materials.
OnePlus was built with the intent to create a superior technology for users and that has been reflected in the OnePlus 8 series, our premium flagship offering. Similarly, the OnePlus Nord brings specs and software that are on par with our flagship device but enable us to provide the premium user experience OnePlus is known for, to a larger audience. Our constant engagement with our community has empowered us with an in-depth knowledge of their expectations which in turn have enabled us to build the optimal device to cater to their needs and requirements.
VS: Now that OnePlus is starting to compete with majors such as Samsung with the launch of the OnePlus 8 series, is there a possibility of Nord being spun off as an independent brand or product segment?
VA: The OnePlus Nord is our first affordable smartphone product line that makes the premium OnePlus experience accessible to more users. Since our entry into the market, we have provided our users a premium smartphone experience and have worked closely with our community to create flagship devices that effectively cater to their evolving needs along with the inclusion of the latest technology.
While our focus of enabling a superior burdenless user experience has remained constant, we also understood that a section of users that desire a more affordable smartphone that incorporates OnePlus' flagship-level product and user experience standards. The Nord caters to this demand and marks our entry into the midrange smartphone segment without compromising on the premium OnePlus experience. This decision to launch a more accessible product line is also in line with OnePlus's global strategy - and something we've been considering for a long time.
VS: It seems to have taken quite a while for OnePlus to offer mid-range TVs after the flagship launch last year. Going forward, can we expect closer launch dates for both segments?
VA: The launch of the Q1 range of smart TVs in September 2019 was OnePlus' first step towards creating a connected ecosystem, built on the brand's burdenless design philosophy. In just 10 months, we have expanded our TV portfolio and introduced the Y and U series in line with our vision to diversify our offerings through new product lines across a wider range of price points. As a growing brand, we are constantly exploring new opportunities to further fuel our growth and will continue to introduce new products across price segments when the time is right.
VS: Are there plans for offering smart wearables soon?
VA: As a global technology company, the ultimate goal for us has always been to unlock the full potential of technology, to provide seamless integration of the four connected zones — the home, the office, the car and the self (wearables) — in a person's daily life, thus building a larger ecosystem.
We continue to work towards projects that cater to our ever-evolving OnePlus community and meet the needs of more users worldwide by strategically diversifying into new product categories and new price points without compromising on our OnePlus promise.
We would like to thank OnePlus India for giving us this opportunity to talk to Vikas Agarwal and look forward to more such insights in the future.
Top 10 Laptops
Multimedia, Budget Multimedia, Gaming, Budget Gaming, Lightweight Gaming, Business, Budget Office, Workstation, Subnotebooks, Ultrabooks, Chromebooks
under 300 USD/Euros, under 500 USD/Euros, 1,000 USD/Euros, for University Students, Best Displays
Top 10 Smartphones
Smartphones, Phablets, ≤6-inch, Camera Smartphones