OnePlus says of itself that its fans are very important to the company. The manufacturer is in constant exchange with the community, and what was heard there after the launch of the OnePlus 8 and the OnePlus 8 Pro was probably quite clear: The manufacturer, who was once committed to annoying the established manufacturers and their expensive flagships with its own, much cheaper top devices, has now become a premium brand itself, where premium prices have also been set. Understandably, many long-time fans weren't too happy with this.
The call for a cheap OnePlus device that goes back to the manufacturer's roots, so to speak, became loud, and now OnePlus has delivered: Not only is the OnePlus Nord supposed to attract attention with its particular name, but it's also meant to deliver top specs at affordable prices again.
Our first impression after unboxing definitely confirms the OnePlus Nord's high-quality claim: The smartphone is solidly manufactured and sits well in the hand. The OnePlus Nord is a medium-sized smartphone, probably still too big for small hands, but also it is not a giant mobile phone like the OnePlus 8 Pro.
We can confirm the presence of slim display bezels as well as the good placement of the dual hole-punch camera, which doesn't attract too much attention or interrupt when clever background images are used.
We have received the blue version of the smartphone; a more discreet version in gray is also available at launch.
Configuration
The OnePlus Nord's specs aren't bad for a device that you can get for under 400 Euros (~$463): A 90 Hz display, 5G, four cameras at the back and two at the front, fast-charging technology at up to 30 watts, and a lot of storage.
Specifically, the OnePlus Nord is available in the following storage configurations:
8 GB of RAM / 128 GB of storage: 399 Euros (~$462)

12 GB of RAM / 256 GB of storage: 499 Euros (~$578)

Are there also things that worry us at first sight? Well, the battery doesn't seem to be particularly powerful at 4,115 mAh, which could limit the smartphone's runtimes. The SoC isn't the absolute best but is the Snapdragon 765G upper-class model instead. This should offer more than enough power for most apps, but the performance gap to more-expensive flagships should be noticeable.
There is no Wi-Fi 6, which could scare off fans of fast network connections. The display's 1080p resolution is surpassed by some more-expensive smartphones, but it's entirely sufficient for the screen size to render a sharp image.
But we are, of course, nitpicking here since the configuration is still very good for a smartphone in this price range.
Camera
Of the four camera lenses on the back, three can be used to take stand-alone photos: With 48 megapixels and pixel-binning, the main camera combines four pixels into one by default to produce 12-megapixel photos with a high light output. In addition, there's a wide-angle and a macro lens that has a very low resolution of 2 megapixels, though. The fourth lens is used to obtain depth information for portrait shots.
Our first impression of the camera is good: The photos taken with the main camera look colorful and sharp even in not-quite-optimal lighting conditions. The wide-angle camera takes decent pictures too, and due to the different levels of zoom provided by the lenses, there is quite some flexibility at the time of composing a photo. Since OnePlus wants to keep tuning the camera software until the time of release, we're not allowed to publish any sample photos until the final review is done.
There are also two cameras on the front: A normal and a wide-angle lens. You can only switch between them but not zoom. Pictures taken with these lenses quickly look overexposed in bright environments, but as already mentioned, OnePlus still has time to improve the camera.
Preliminary verdict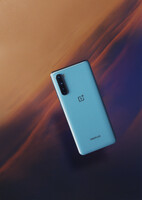 The OnePlus Nord is a device at a competitive price that looks high-quality at first glance and comes with a lot of features: Four cameras at the back, two at the front, a 90 Hz display, 5G, and also generous storage options. It inherits the smooth and modern operating system from its more-expensive siblings as well as the quick-charging technology.
The battery and processor have yet to prove to us in the test that they can keep up with the performance of actual high-end devices. In addition, there's no Wi-Fi 6, which is a pity for now.
The OnePlus Nord offers a lot, but it also has to assert itself against tough competition. The review will definitely be exciting.

If the OnePlus One and its direct successors were still price breakers and had hardly any real competition, well things look different today: Even the most established vendors have woken up and now offer cheaper alternatives with an interesting price-performance ratio. So it will be interesting to see how the OnePlus Nord performs in this new environment and whether it still deserves the title of price breaker.
We already have the test device here with us, but due to the embargo we can't publish our extensive review until next Monday.
Unboxing and hands-on video (English)
I initially wrote about gaming laptops when I joined Notebookcheck in 2009. I was then involved with the setup of the comparison portal Notebookinfo and worked with social media concepts for large companies like BMW and Adidas, while also returning to work for Notebookcheck in 2012. Nowadays, I focus on smartphones, tablets, and future technologies. Since 2018 I have been Managing Editor for mobile device reviews, working alongside my colleague Daniel Schmidt.
I've been fascinated with technology ever since I got my very first Android smartphone, which was quite a while ago. The power packed into such a small footprint still amazes me. Learning to program made my understanding of technology deeper, and at the same time, it expanded my interest to the area of desktop computers and laptops. All this led me to enjoy reading and watching reviews of new devices, and that's how I stumbled upon Notebookcheck. I immediately found their reviews to be very comprehensive, and luckily, I've even had the chance of translating them since 2019. When it comes to the huge field of technology, I'm currently also interested in specializing in Java programming.