The Consumer Electronics Show earlier this year was an awkward period for enthusiast gaming notebooks. With Coffee Lake-H not set to arrive until Q2 2018 at the earliest and no new GeForce graphics cards from Nvidia, laptop makers had zero reason to show off refreshed chassis designs for their existing gaming lineups. Instead, most manufacturers omitted high-end gaming laptops completely from the show floor or only presented known models that are already available in the market.
It's true that laptop makers now have Kaby Lake-G to work with, but the Intel-AMD hybrid technology came out of left field and is more oriented towards mainstream users and small form factor PCs rather than for weighty high-end gaming machines like the Acer Predator series, MSI GT series, Aorus series, or Alienware series.
We visited each major manufacturer as listed below with one simple question in mind and their responses were unanimous. In short, all manufacturers are essentially waiting on Intel to announce the true successor to the Kaby Lake HQ series next quarter before publicly revealing their respective notebook redesigns. Until then, manufacturers can only hint at what they have under the curtains.
Acer
The Taiwan-based maker was the only major manufacturer to show off a new gaming notebook running wholly on AMD hardware. Unfortunately, this Ryzen and Polaris notebook will utilize the exact same Nitro 5 chassis that is already available with Intel and GeForce options. Acer is likely testing the waters with its AMD-based Nitro 5 before committing more resources to mobile AMD hardware.
Beyond the single mainstream laptop above, there were no new Predator hardware announcements made during the event. A proper Predator laptop equipped with a Ryzen 7 CPU to compete against last year's Asus GL702ZC would have been great to see.

Aorus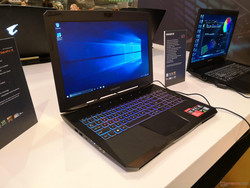 Gigabyte/Aorus showed off the most gaming laptops at CES this year with everything from the Gigabyte P series all the way up to the Aero 14, Aero 15, SabrePro 15, Aorus X3, X5, X7, and even the Aorus X9. All models, however, have not changed physically from what we've already seen before. Users can instead expect internal refreshes in the coming months with Intel 8th gen Coffee Lake CPUs, new 144 Hz display options, and Max-Q GPUs depending on the model and screen size. The large Aorus X9 will be dropping SLI in favor of a single GTX 1080 which makes much more sense in a post-DX11 gaming landscape. Of course, Gigabyte was unwilling to divulge the exact 8th gen CPU names that these laptops will eventually carry.
The manufacturer has told us that more resources will be put into the successful Aero series at the expense of the older and waning P series. There are no new chassis redesign announcements at this time, though we do believe that the Aorus laptops in particular are overdue for a complete overhaul since they have been largely the same for years.
Asus
Gaming laptops from Asus were largely M.I.A. in favor of new small form factor PCs, eGPU docks, Republic of Gamers desktops, and the consumer-class Zenbook 13 and Zenbook Flip 14. The few gaming notebooks that were on show include the Strix SKT T1 Hero Edition and ROG G703, both of which have been available since 2017. It's still unclear if Asus will overhaul its flagship ROG G series in time for Coffee Lake-H or simply refresh the lineup internally while keeping the familiar chassis.
Dell
Along with HP, Dell was focused on Kaby Lake-G in lieu of dedicated Alienware or Inspiron gaming notebook announcements. There was no doubt that the brand new XPS 15 2-in-1 was the highlight of the Dell show floor.
Representatives have told us that we can expect new Alienware announcements in Q2 2018 or around the same time as the expected Coffee Lake-H reveal. Interestingly, Dell wants to keep Kaby Lake-G away from the Alienware family for now likely because its performance is not comparable to discrete high-end solutions from Nvidia.
EVGA
The Taiwanese hardware company had only one notebook to show this year in the form of the EVGA SC15. Nothing has changed from when we last checked out the notebook other than the brushed glossy aluminum outer lid, GTX 1070 Max-Q GPU, and Intel Coffee Lake-H CPU. EVGA says we can expect the notebook to come this April at the earliest - slyly hinting at the probable official reveal of Coffee Lake-H in just a couple of months.
As for the larger SC17, the manufacturer had nothing specific to divulge. Here's hoping that a full system refresh is in the works as the chassis is beginning to show its age with its thick display bezels and lack of per-key RGB lighting.
HP
The HP Omen series was all but missing in favor of the Spectre x360 15 refresh with Kaby Lake-G and the Envy x2 Intel Edition. More Omen announcements are expected later in the year during the back-to-school season according to the manufacturer. Until then, the high-end Omen X 17 will continue to be the flagship poster child for the series.
Lenovo
Lenovo's Legion notebooks were pushed aside this year to make room for a slew of new announcements related to ThinkPads, Ideapad tablets, and AR/VR. Our representative had nothing specific to say about the Legion series other than there is something "new" coming up later in the year. However, we can expect certain ThinkPad T models to be refreshed with Coffee Lake-H in the coming months and any Legion announcements will likely follow shortly thereafter.
MSI
Like Gigabyte, the MSI show floor was filled with already available notebooks and no new "killer" redesigns to grab the spotlight. Perhaps the most notable internal update will be to the GT75VR as it will ship later this year with HDR display options and a backlight capable of reaching 800 nits. The configuration with faster 1.3 Gbps Killer WiFi will be made available a few months earlier.
One new gaming notebook, however, managed to slip through. The mainstream GP73 will supplant the GP72 with a brand new chassis that incorporates external design features found on the pricier flagship GT series. Otherwise, internal hardware will still be limited to the GTX 1060 and optional 120 Hz 1080p display.
We asked MSI when we can expect the inevitable Coffee Lake-H refresh and received the same vague Q2 to Q3 2018 time frame. The manufacturer says it currently has no plans for Kaby Lake-G either, but its engineers are certainly open to the idea should the Intel-AMD chip prove to be popular. Mobile AMD Ryzen CPU options are also on the table once AMD has enough supply for all its partners.
Zotac
Zotac, of course, is not in the traditional notebook business for the time being as the manufacturer seems content in carving out its own niche of super-small gaming mini PCs. Unsurprisingly, nearly all new announcements were related to mini PCs from the fan-less credit card-sized C series all the way up to the Magnus ER series powered by Ryzen APUs and GeForce GPUs. A few of the new mini PCs, such as the CI660 Nano and MA551, will come with Core i7-8550U and unannounced 65 W Raven Ridge options.
Zotac says we can expect new Gemini Lake models whenever these processors become available later this year, but Coffee Lake-H mini PCs remain unclear. Existing mini PCs from Zotac typically use desktop-class Intel K series and T series processors instead of the 45 W class HQ series for laptops.
Source(s)
After graduating with a B.S. in environmental hydrodynamics from the University of California, I studied reactor physics to become licensed by the U.S. NRC to operate nuclear reactors. There's a striking level of appreciation you gain for everyday consumer electronics after working with modern nuclear reactivity systems astonishingly powered by computers from the 80s. When I'm not managing day-to-day activities and US review articles on Notebookcheck, you can catch me following the eSports scene and the latest gaming news.