CES 2018 | Rivet announces new Killer AC-1550-WiFi module reaching up to 1.3 Gbps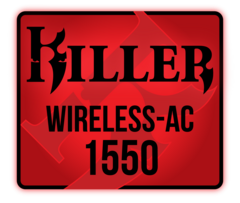 Rivet Networks new Killer Wireless AC-1550 module is based on Intels brand new 9260/9250 WiFi chipset and branded as the fastest 2x2 WiFi module on the market today. Reaching up to 1.73 Gbps theoretical and 1.3 Gbps real throughput, it could easily compete with Gigabit ethernet, at least on a short distance.
Compared to the identical Intel 9260/9250 chipset, Rivet Networks added their own drivers and therefore allows for advanced features like "Advanced Stream Detect 2.0", the Killer control center and DoubleShot Pro. These allow for better traffic analysis and prioritization in order to prevent stutters and lags in games while downloading or streaming media.
On a more technical basis, the new Intel chip offers the newest 802.11ac-Wave 2-Features like 160 Mhz channels and MU-MIMO plus Bluetooth 5.0 compatibility. Rivet Networks is expected to sell the new chip at a cheaper price compared to the previous generation Killer 1535, which performed pretty well in our extensive test. The new module will be integrated into desktops, mainboards and notebooks, two prominent launchpartners are Alienware and MSI.


Quelle(n)