Killer Wireless-AC 1535 Review
For the original German review, see here.
Rivet Networks presents the Killer Wireless-AC 1535: an M.2 2230 adapter, which supports the 802.11 a/b/g/n/ac standards and Bluetooth 4.1. The card is based on a Qualcomm chip, but its software and hardware design and certifications are from Rivet Networks. This chip is a dual-band (2.4 and 5 GHz) 2x2 AC WLAN adapter, which supports MU-MIMO and Beamforming. Rivet has added features, such as Advanced Stream Detect for Quality of Service and ExtremeRange for extended range. Combined with a LAN chip from Killer, this card allows the user to employ WLAN and LAN simultaneously and intelligently for QoS. Rivet calls this combo the DoubleShot Pro technology.
Advanced Stream Detect
Rivet advertises Advanced Stream Detect as the main feature of its Killer products. This software allows the user to manipulate data traffic - a sort of Quality of Service. By default, the card prioritizes games and streaming videos over downloads. This should provide low latency times in games and ensure fluid audio and video streams for applications, such as, Skype and YouTube. These settings can be customized to suit individual preferences.
Advanced Stream Detect cannot determine the perfect data traffic distribution right out of the box. First the user must provide the exact upload and download rates. The Rivet software can be used to determine these numbers, but, if the user has fluctuating internet speeds or connections, the card may make poor estimations. For example, in our test, we observed that Advanced Stream Detect could not determine the maximum connection speeds available when we only had medium signal quality. However, once we had a stable connection and the full transfer speeds available, Advanced Stream Detect worked smoothly. Thanks to Advanced Stream Detect, we could play a 4K YouTube video fluidly while downloading from Steam. Another example is playing an online 3D game while streaming videos and downloading torrents. In this scenario, the ping on Team Fortress 2 was a little high, but it was much lower with active Advanced Stream Detect (45 versus 70 ms). In addition, the YouTube video ran without stutters or loading breaks.
We checked the DoubleShot Pro feature in the MSI GT72S-6QE. Sadly, the simultaneous use of Killer LAN and WLAN is only truly beneficial in a few cases, such as, when the user is transferring data from the NAS or internet programs, or when using two internet connections. As such, we consider DoubleShot Pro more of a gimmick than a real feature, as it will be rarely used and its configuration possibilities in the current version of the Network Manager are limited.
The Killer Network Manager, which sets the priorities of the data traffic, required 1 to 2% CPU performance in the MSI GT72. As such, it is not too hungry for resources.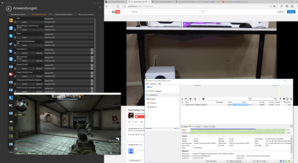 MU-MIMO
MU-MIMO is an acronym for "Multi User - Multiple-Input and Multiple-Output". This feature allows the router to simultaneously send data to multiple MU-MIMO-ready devices (but not receive). In our test, we considered the performance of two MSI notebooks with Killer WLAN interacting with our Netgear Nighthawk x4s r7800 router. We measured the bandwidth using iPerf3 with the settings: "4 MB Window Size" and ten parallel connections (-w 4M -P 10). We used a desktop PC with the Asus Z97 Deluxe motherboard and an on-board Intel I211 Gigabit LAN card for comparison. After 6 runs, the MU-MIMO duo proved to be 7 to 33% faster (weakest to strongest results) than its desktop counterpart. On average, the duo were 19% faster, which translates to 634 to 732 MBs. It is important to note that both Killer notebooks were communicating with the same server. If 2 different servers are used (Netgear and Linksys EA8500 router), then MU-MIMO provides no additional benefits. As such, MU-MIMO is only useful if two devices are simultaneously transferring data from NAS or the internet. It is also important for both devices to support MU-MIMO.
ExtremeRange
The ExtremeRange technology uses MU-MIMO, Transmit Beamforming and two external 5 GHz amplifiers to optimize the range of the Killer Wi-Fi cards. In our test, this feature allowed the GT72S Dominator Pro to have good reception even in the cellar of a single-family house (router on the 1st floor). In fact, the laptop could match the performance of a 3x3 WLAN card of the MacBook Pro Retina 2013, which is one of the most stable Wi-Fi cards we have ever tested. Once again, we confirmed the results of this test using the Linksys EA8500 router.
Transfer Rate Killer 1535
We tested the signal quality and bandwidth of the Killer 1535 using an MSI GT72 (provided by Killer) and an MSI GE72, which we equipped with a Killer 1535. Once again, we used iperf3 for measuring the bandwidth during the test. The notebooks were placed one meter (~3 ft) from the router (Linksys EA8500) in the 5 GHz AC network and no other 5 GHz network was in range (only weak reception of three 2.4 GHz networks). The comparison device was an Asus Z97 DELUXE-based desktop PC with Intel I211 Gigabit LAN on-board.
The results of the tests show that, at short distances, the Killer 1535 deserves the "Premium" tag. We always had a stable connection and the speeds were a little higher than the high-end Intel competition (with 4 MB Window Size and 10 simultaneous connections). Even with a single simultaneous connection, the Killer card was very fast and was placed only second to the 3x3 Broadcom card of the MacBook Pro Retina 13. The Killer card distances itself from cheap, 1x1 AC entry-level devices, such as, the Intel 3165, with a large gap of 81 to 95%. This difference in speed is tangible when performing large transfers from a NAS.
Verdict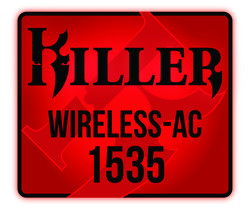 The Killer Wireless AC-1535 impressed us with very good transfer speeds, long range and intelligent features. This card can be easily recommended to gamers and power users who are looking for the freedom provided by features such as Advanced Stream Detect. Unfortunately, the user must fine-tune the settings themselves. On the other hand, features, such as, DoubleShot Pro, are more of a gimmick, as it is rare for a Gigabit connection to be fully utilized. The data transfer rates of the Killer 1535 in the MSI GT72 are a little faster than the Intel AC 8260 in the T460s. The fastest device is still the 3x3 solution from Broadcom, which can be found in Apple products. However, this card does not support MU-MIMO or Advanced Stream Detect.