Gamescom 2017 | Linksys announces the WRT32X Gaming Router and claims it is "the first true gaming router"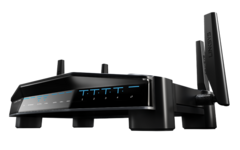 Linksys announces the new WRT32X which they say is "the first true gaming router" designed in partnership with Killer Networking to incorporate their Killer Networking Prioritization engine. Linksys claims that peak ping can be reduced by up to 77 percent when a laptop with Killer networking connects. The WRT32X contains high-end features and is open source ready (OpenWRT).
Yesterday Linksys made a Gamescom 2017 announcement about their new gaming focused router, the WRT32X. Linksys is claiming that this is the "first true gaming router – built for serious gamers."

There are three key points which Linksys are focusing on:
Partnership with Killer Networking to integrate the Killer Networking Prioritization engine into the router. Linksys claims that when a gaming laptop with Killer networking connects to the router, they can expect the peak ping to be reduced by up to 77 percent* due to the way the router will prioritize game related traffic.
Firmware built specifically for low latency gaming on the WRT32X using the latest stable Linux kernel as the base.
The inclusion of specifications typically employed in Linksys enterprise routers, such as 1.8 GHz dual-core ARM SoC, 802.11ac Wave 2 3x3, AC3200 (N600 + AC2600) speeds, 512 MB DDR3 RAM, 256 MB Flash storage, 5-port gigabit ethernet with TCAM.
Other specifications include a USB3.0 and a combo USB2.0/eSATA ports (supports FAT, NTFS, and HFS+ file systems), four external antennae, PPTP/IPSec VPN passthrough, and open source ready for OpenWRT.

The WRT32X is now available for pre-order on Amazon, BestBuy, and Linksys.com but will be available from multiple other computer and electronic stores after release on the 21st of September. The MSRP is US$300.

*Note: the 77 percent reduction claim comes from a test where ping was reduced from 74 ms to 17 ms when the Killer Prioritisation Engine was enabled on a 10 Mbps down / 2 Mbps up connection that has "multiple devices" consuming the bandwidth.