Linksys WRT32XB will be the first router optimized specifically for Xbox gaming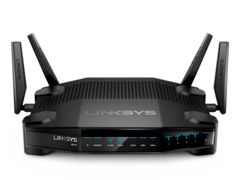 The WRT32X is relaunching tomorrow with a special WRT32XB edition designed for Xbox gamers. Its software will be tuned out-of-the-box to prioritize Xbox online and streaming traffic while still offering the same high-end features as the WRT32X. Linksys is citing the rapidly growing gaming market for the soft relaunch of its gaming router.
American networking company Linksys announced its WRT32X gaming router back in Gamescom 2017. The high-end router is notable for its ability to transmit at up to 3.2 Gbps with built-in Killer-specific features designed to pair well with Killer WLAN cards commonly found on most gaming laptops like MSI, Alienware, Gigabyte, and others. Now, the manufacturer will be retooling the WRT32X into the WRT32XB with new software features that will automatically identify and prioritize all incoming traffic from the Xbox console. The idea is to reduce lag spikes and connectivity issues when gaming with the wireless router.
Other than the change above, the WRT32X and WRT32XB are exactly the same router. In fact, even Linksys has confirmed that users can manually change their existing WRT32X settings to provide the same gaming functions as the WRT32XB. Instead, the WRT32XB will come in its own special packaging inspired by the Xbox brand. The manufacturer plans to release an update by this Summer to WRT32X routers so that all owners can enjoy the same benefits as the WRT32XB.
Linksys is promising that the WRT32XB will retail for the same price as the current WRT32X. If so, then we can expect the new router to cost around $250 USD when it launches tomorrow.
All of our reviews to date have been performed with Linksys EA8500 routers when testing for wireless connectivity.