In a curveball move, Dell has decided to forego a traditional XPS 15 at CES this year in order to focus press attention to its XPS 15 convertible. Simply called the XPS 15 2-in-1 (9575), the notebook is almost a complete departure from the XPS 15 (9560) we know and love with only skin-deep similarities between them. It can be considered as a competitor to the recently revealed 2018 HP Spectre x360 15 and as a higher-end option to Dell's existing Inspiron 15 7000 convertible series.
The core differences between the XPS 15 9560, XPS 15 2-in-1 9575, and 2017 Spectre x360 15 are outlined below. Additional direct comparisons between the XPS 15 2-in-1 and 2018 Spectre x360 15 will be made in our future reviews.
Dell XPS 15 2017
Dell XPS 15 2-in-1
HP Spectre x360 15 2017
CPU
45 W Core i5-7300HQ, Core i7-7700HQ, Kaby Lake
65 W Core i5-8305G, Core i7-8705G. Kaby Lake-G
15 W Core i7-8550U, Kaby Lake-R
GPU
HD Graphics 630, GeForce GTX 1050
Integrated Radeon RX Vega M GL
GeForce MX150
Display
FHD non-touch, 4K UHD touch
FHD touch (100% sRGB), 4K UHD touch (100% AdobeRGB). 400-nits, 1500:1 contrast ratio, Stylus Tilt support
4K UHD touch
RAM
8 GB to 32 GB DDR4 2400 MHz
8 GB to 16 GB DDR4 2400 MHz, (32 GB planned)
8 GB to 16 GB DDR4-2400 SDRAM
Ports
2x USB 3.0 Type-A, 1x Thunderbolt 3 (20 Gbps), 3.5 mm audio, SD reader, Noble Lock, Battery check button, HDMI

AC adapter
2x USB Type-C Gen. 2, 2x Thunderbolt 3, Noble Lock, MicroSD reader, 3.5 mm audio
1x USB 3.1 Type-A, 1x Thunderbolt 3, 1x USB Type-C Gen. 2, SD reader, 3.5 mm audio, HDMI
Battery
57 Wh or 97 Wh
75 Wh
79.2 Whr
Wireless
Killer 1535
Killer 1435 or Intel 8265
Intel 8265
Keyboard
1.3 mm key travel, no NumPad
0.7 mm Mag-Lev key travel, NumPad
1.5 mm key travel, NumPad
Dimensions
357 x 235 x 17 mm
354 x 235 x 16 mm
356 x 251 x 18 mm
Weight
2 kg and up
1.97 kg and up
2 kg
The XPS 15 2-in-1 introduces a host of new firsts for the 15-inch XPS series. Aside from the obvious introduction of a convertible form factor, the system will be shipping with new 65 W quad-core Kaby Lake-G processor options that Intel only recently revealed during its CES 2018 opening keynote. The integrated Radeon RX Vega M GL will power the now-mandatory 4K UHD touchscreen and other potential games at performance levels similar to the GTX 1060 Max-Q. These same i5-8305G and i7-8705G CPUs will also be coming to the refreshed HP Spectre x360 15.
When questioned if there will ever be SKUs with discrete Nvidia graphics a la the current XPS 15 family, the spokesman was hesitant to give a direct answer and instead retorted that the chassis was designed around Kaby Lake-G. This is in stark contrast to HP's portfolio as its new Spectre x360 15 refresh will have Kaby Lake-R, Kaby Lake-G, and GeForce SKUs. Here's hoping that driver support for the Radeon RX Vega M GL will be up to par unlike on the very buggy Vega 8 graphics in the Ryzen 5 2500U.

Externally, the XPS 15 2-in-1 will be thinner than the standard XPS 15 by 1 mm at its thickest point and include the same GORE insulation technology as on the XPS 13 9370. Dell was quick to point out that it will be the "smallest and thinnest" convertible for its size class with a target 40 dBA fan noise level similar to many Nvidia Max-Q notebooks.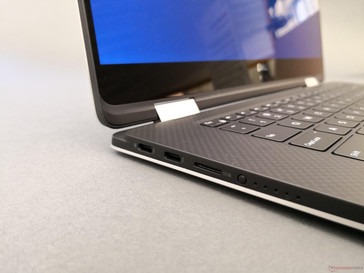 Being "smallest and thinnest" has its drawbacks. A major complaint of the XPS 15 series has always been surface temperatures and - as our reviews show every year - certain areas of the standard XPS 15 can be as warm as 60 C or warmer when under gaming loads. Although we weren't allowed to stress the XPS 15 2-in-1 on the showfloor for obvious reasons, we were able to at least grab some quick thermal maps of the unit after it had been sitting on a desk looping videos throughout the morning.
The results shouldn't be too surprising. The convertible is thinner than the already thin XPS 15 while housing an even more demanding 65 W Kaby Lake-G CPU instead of the 45 W HQ-class CPU. The core hardware is working against the new XPS 15 2-in-1 as far as temperatures are concerned. If the notebook is already in the high 30 C range just from casually streaming video, then we can only imagine how much warmer it must run when gaming.
The temperature gradient may pose an issue as well. As shown by our temperature maps, the WASD keys will grow warmer when under demanding processing loads likely because the processor is located on this same side of the notebook. Most gaming notebooks like the Inspiron 7577 or Omen 15 diligently avoid this in order to keep the commonly use WASD keys as cool as possible. This doesn't spell good news for gamers, but we'll reserve judgment for when we can perform our usual measurements in a more controlled environment come this Spring.
Outside of our temperature concerns, the next innovation of the XPS 15 2-in-1 is its "Mag-Lev" keyboard that utilizes magnets underneath each key to provide stronger tactile feedback for the user without necessitating deeper travel lengths. As such, Dell has managed to decrease key travel from 1.3 mm on the standard XPS 15 to just 0.7 mm on this XPS convertible. The individual keys are subsequently very flat in appearance to better fit the overall super-thin aesthetic. This approach is notably similar to the MacBook Pro 15 keyboard which has an even shallower key travel of 0.55 mm.
In practice, it will certainly take some time for users to become accustomed to the new keys. The first thing we noticed whilst typing our first few words was how loud and high-pitched the key clatter can be. Mind you, we were already in a loud environment to begin with and the clatter from these keys was still very audible. Feedback is firm but also lighter to press when compared to the standard XPS 15 for a potentially smoother typing experience. Whether or not these advantages outweigh the disadvantages will depend on user preferences.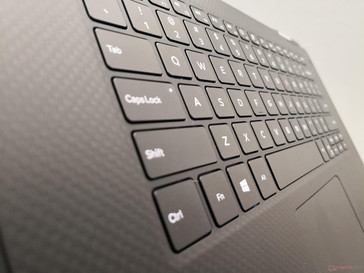 So Where Is The "Real" XPS 15 2017 Successor?
The XPS 15 2-in-1 is Dell's attempt at diversifying its XPS portfolio. CES 2017 saw the reveal of the XPS 13 9365 2-in-1 before updating the vanilla XPS 13 with faster Kaby Lake-R options and improved thermal features later in the year. The manufacturer is poised to repeat these steps this year with the reveal of the XPS 15 2-in-1 at CES 2018 and an eventual update to the vanilla XPS 15 later in the year. Dell tells us that we can expect the next standard XPS 15 to feature mobile hexa-core Coffee Lake CPUs whenever Intel decides to make the series official. If so, we can also anticipate the next generation of gaming laptops to appear around this time since these new processors will directly supplant the current 45 W HQ-class of Kaby Lake processors. As pointed out by Intel, the Kaby Lake-G series is more of an offshoot than a proper successor to the Core ix H series.
The XPS 15 2-in-1 will launch worldwide this Spring for a starting price of $1300 USD.
After graduating with a B.S. in environmental hydrodynamics from the University of California, I studied reactor physics to become licensed by the U.S. NRC to operate nuclear reactors. There's a striking level of appreciation you gain for everyday consumer electronics after working with modern nuclear reactivity systems astonishingly powered by computers from the 80s. When I'm not managing day-to-day activities and US review articles on Notebookcheck, you can catch me following the eSports scene and the latest gaming news.