New Nintendo Switch screens may get a Sharp upgrade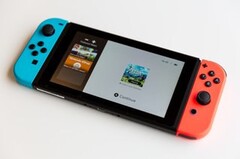 Nintendo has reportedly picked up IGZO technology for its upcoming 2019 Switch models. This type of backing for IPS-LCD screens has resulted in positive reviews for other OEMs in the past, as it can conserve power while offering a high contrast ratio. The IGZO panels now linked to this new console are to come from Sharp.
A new report published in the Wall Street Journal asserts that Nintendo has turned to Sharp in the production of screens for its upcoming Switch refresh for 2019. The Japanese panel-makers will apparently supply the games company with panels based on indium gallium zinc oxide (IGZO) backing compounds.
The resulting IPS-LCD panels, as NBC reviewers have observed in the past, can result in screens that offer superior color accuracy, while maintaining appreciable contrast and black levels. Better yet, IGZO panels have been observed to confer a Low Power status on the machines that use them.
Katsuaki Nomura, Sharp's Executive Vice President, reportedly stated that, "We will provide what we are most good at, IGZO", when quizzed about new potential orders from the console manufacturer. Therefore, it appears that the new Switch may be released with an improvement over the 720p LCD panel found in the original hybrid tablet.