SNES OTG: Nintendo Switch Online will get 20 Super Nintendo games Septermber 5th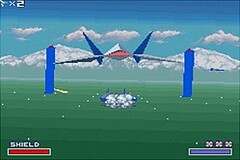 Nintendo announced today that 20 SNES games would be making their way to the Nintendo Switch Online service tomorrow, September 5th. The bundle, available only to NSO subscribers, includes classics like Super Mario World, Star Fox, Super Metroid, and Super Mario Kart.
Despite the initial controversies surrounding the Nintendo Switch's online service, there are some great perks available to subscribers. Case in point: 20 classic Super Nintendo (SNES) games are coming to the Nintendo Switch Online service (NSO) tomorrow, September 5th.
There are some bonafide classics in the bundle, including The Legend of Zelda: A Link to the Past, F-Zero, Super Mario World, and Super Metroid (widely hailed as the best game on the platform). There are also some fun multiplayer titles including Super Mario Kart.
An interesting inclusion is Stunt Race FX, a rare title that has never been released apart from its initial physical cart run. Stunt Race FX is an early polygonal racing game made possible by the Super FX Chip, an additional piece of hardware included in the game cartridge to aid in 3D rendering and modelling in real-time. Star Fox (also available on NSO on September 5) also used the Super FX Chip for its polygonal models.
Speaking of multiplayer, the SNES games will support online and local multiplayer. Gamers can race their friends from either the other side of the globe or the far end of the couch.
The SNES games will also support the Rewind feature used in the SNES Classic Edition, which allows gamers to reverse a game by a few seconds to correct a mistake. Additionally, Nintendo is offering a Switch-compatible SNES controller. NSO subscribers can snag one for $30 when it becomes available.
The full list of games available on Nintendo Switch Online tomorrow, September 5, is as follows:
BRAWL Brothers

Breath of Fire

Demon's Crest

F-Zero

Joe & Mac 2: Lost in the Tropics

Kirby's Dream Course

Kirby's Dreamland 3

Pilotwings

Star Fox

Stunt Race FX

Super E.D.F.: Earth Defense Force

Super Ghouls 'n Ghosts

Super Mario Kart

Super Mario World

Super Mario World 2: Yoshi's Island

Super Metroid

Super Puyo Puyo 2

Super Soccer

Super Tennis

The Legend of Zelda: A Link to the Past
Working For Notebookcheck
Are you a techie who knows how to write? Then join our Team! Especially English native speakers welcome!
Currently wanted:
News and Editorial Editor - Details here