The original Diablo hits Nintendo Switch, but as an unofficial port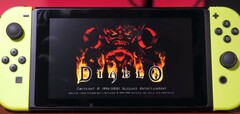 DevilutionX — an unofficial Diablo version that has been developed using code obtained by reverse-engineering the original game — is now available for Nintendo Switch. However, not all Nintendo Switch units can run it since the consoles need to run homebrew to allow their owners to play this rather special Diablo flavor.
Released at the end of 1996 for Microsoft Windows, the first Diablo title is a game that needs no introduction. With more than 2.5 million copies sold, Blizzard's hit managed to define a genre and was never forgotten. In 1998, Diablo was also released for the Classic Mac OS operating system and the Sony PlayStation console.
Two decades later, the original title was reverse engineered by a developer known as GalaXyHaXz in four months and he simply released the code on GitHub as open source. The resulting open source code mentioned above has been compiled for the Nintendo Switch as DevilutionX. The story of how this all came to fruition can be seen in the video embedded below the next paragraph.
Nintendo Switch owners can only run Diablo III: Eternal Collection on their consoles without breaking a sweat since DevilutionX is an unofficial release and requires them to also run homebrew. Fortunately for those not adventurous enough to run unofficial pieces of code such as DevilutionX, Diablo III: Eternal Collection includes all the goodies ever released for this title — exclusive extras as well.
Working For Notebookcheck
Are you a techie who knows how to write? Then join our Team! Especially English native speakers welcome!
Currently wanted:
News and Editorial Editor - Details here