StarCraft Remastered goes all cartoonish thanks to the Cartooned mod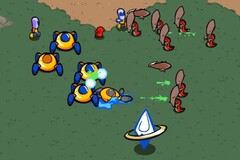 If the two-year-old StarCraft: Remastered was not enough to draw the attention of the hardcore fans of Blizzard's iconic title that was released at the end of March 1998, the Cartooned mod might make them finally pay attention to it. The US$9.99 mod comes with all-new, cartoon-style graphics and is fully compatible with online play.
Back in 1998, at the end of March, Blizzard released what was going to become an iconic title in the history of gaming, namely StarCraft. By February 2009, Blizzard had managed to sell over 11 million StarCraft copies. StarCraft II arrived in 2010, and Blizzard returned to the origins with a 4K remaster of the initial game that also included re-recorded audio and a modern suite of online features in 2017. Now, a US$9.99 mod can turn StarCraft: Remastered into a completely new experience.
According to the official product page, StarCraft: Cartooned allows its players to experience the classic gameplay of this title "with all-new, lighthearted cartoon graphics! StarCraft: Cartooned reimagines every unit, structure, map, menu and story mission in the game, drawing on the lovable artistic style of Carbot Animations."
StarCraft: Cartooned covers all the elements of the game, including all campaign missions. The best part of it all is that online play is not affected and those who run StarCraft: Remastered with this mod activated can still go online and play alongside or against other players, even if their virtual allies (or enemies) are running the game without the Cartooned mod.
This mod is available from the Blizzard Shop for US$9.99 (or EUR) and works with StarCraft: Remastered on both Windows (7 and later) and macOS (at least OS X 10.10) machines.
Working For Notebookcheck
Are you a techie who knows how to write? Then join our Team! Especially English native speakers welcome!
Currently wanted:
News and Editorial Editor - Details here