Psychonauts 2 has been pushed to 2020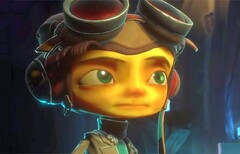 Originally scheduled to arrive in 2018, Psychonauts 2 was expected to arrive later this year. This title for PC, Xbox One, and PlayStation 4 looks like its predecessor with improved graphics and a few new ideas. Sadly, its launch has been pushed to 2020 and we can only hope that it will not get another delay next year.
With a goal of US$3,300,000, the crowdfunding campaign for Psychonauts 2 was declared successful mid-January 2016, when those interested in this title had pledged no less than US$3,829,024. The post-campaign total sits at US$3,974,698, but it looks like a good game needs more than just money, and the magic ingredient is — next to inspiration and a dedicated team — is time.
Unfortunately, the team behind Psychonauts 2 has run out of time more than just once so far. Initially set for a 2018 release, the game was pushed to 2019. Now, we find out that this title could arrive next year — if everything works as planned, of course.
According to Double Fine boss, Tim Schafer, "We're now targeting [2020] for release. We know it's always disappointing when you have to wait a bit longer, but we also know that you are an amazing, supportive bunch, who – just like us – want the game to be as good as possible. So we're hopeful you'll understand!"
Since Microsoft has recently acquired Double Fine, this delay might be the last one. Backed by the tech giant based in Redmond, the Psychonauts 2 team should be able to bring this game to PCs, Xbox One, and PlayStation 4 consoles next year, as promised.
Anyone here remembers the original Psychonauts platformer? Feel free to share some memories if your answer is affirmative and you can spare a few minutes, your comments are always welcome.
Source(s)
Fig (Psychonauts 2 Crowdfunding Campaign)