Fallout 76 is getting nuked by reviewers and gamers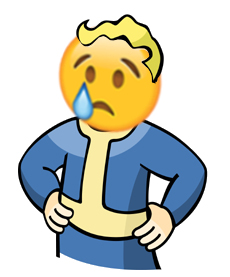 Fallout 76 is getting hammered by critics and gamers alike. In its first week after release, the game has fallen close to the bottom of Metacritic's ratings. The PC version currently has a Metascore of 55, while the PS4 and Xbox One have Metascores of 49 and 48, respectively. All three versions have failed even harder with gamers; user scores across the three platforms sit at about 2.4-2.9.
The bigger the hype, the harder the fall.
Fallout 76 was one of the most anticipated titles leading up to its release last week, but it looks like the hype has died down to a barren wasteland of disappointment and regret. Fallout 76 is not sitting well with gamers, and that's being generous.
Many gamers have flocked to Metacritic to voice their distaste for the multiplayer game. As of this writing, the PC version of Fallout 76 is sitting at a user score of 2.9 based on 3300 ratings. Metacritic has labeled users reviews as "generally unfavorable."
Critics aren't so hot for the title either; the current Metascore for the PC version for critics is 55, which is fairly lukewarm. Several review sites have given mixed or negative reviews of the game, including IGN (5/10), PC Gamer (6/10), Gamespot (4/10), and The Guardian (2/5).
The PS4 and Xbox One versions are faring even worse. The PS4 release has a Metascore of 49 with a user score of 2.7, while the Xbox One version has a Metascore of 48 and a user score of 2.4.
It's not all doom and gloom for the latest Bethesda title, though. Some gamers have enjoyed journeying into the Wasteland with others online. However, this is a small subset. At the time of this writing, only 804 of the 3300 ratings were positive, 155 were mixed, and a whopping 2341 were negative.
Common complaints among negative reviewers mentioned buggy gameplay, control and combat lag, and general boredom. The game was criticized for numerous bugs during its beta (one of which caused the game to delete itself upon launch). Bethesda attempted to remedy this with a day-one patch that was as large as the game itself.
It looks like this may not have been enough to satiate gamers, however. Fallout 76 is sitting below many other games on Metacritic's rankings, including Leisure Suit Larry: Wet Dreams Never Die and Shaq Fu: A Legend Reborn.