Bethesda promises another new Fallout 76-fixing update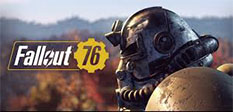 Bethesda has announced that it will push another new updated to Fallout 76 in order to fix the numerous issues players have highlighted in the past. This new patch also apparently includes new features for the game itself, which include the ability to set up a player-run store. Fallout 76 will also gain new PvP functions and vaults.
Fallout 76, a title that had been much maligned by critics and players alike since its release, is getting a new update in order to address its issues. These have been described as severe and significant bugs such as client crashing on game exit, limited choices in terms of playable characters, and general lag. The game's developer, Bethesda, was even moved to offer free games by way of an apology to customers in response to their complaints and poor feedback.
Accordingly, the studio has recently announced that the game is to receive its first update of 2019. It is intended to fix some of the problems the players have brought to light. In addition, it also introduces the concept of player-vendables to the game. This allows users to set up their own store, in which they can sell the potentially valuable or useful items they have gathered. The new update is also set to bring a new PvP function to the game, as well as some unspecified Vaults.
Despite its new game's teething troubles, Bethesda appeared optimistic in its New Year's message to its fans. It also thanked them for their feedback about '76, invited more of the same and also welcomed suggestions to improve the game in the future.