< An 11.1-inch MacBook Air clone from Shanzhai
27.08.2009 04:37 Age: 4 yrs
Category: new notebook models
By: Pallab Jyotee Hazarika

The classic Shanzai netbook comes for under $200
This snake skin-print beauty gives you the standard features at a very decent price
---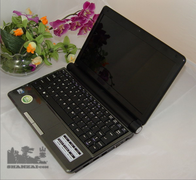 The classic Shenzhai netbook, S30, as it is known, is apparently the highest sold netbook ever when it's first unveiled. Now consumers get it an even lower price.
The S30 sports a 10.1" screen with a 1024 x 576 resolution. It is powered by an Intel Atom N270, 1GB of DRR2, a 160GB hard drive, 3 in 1 card reader, a few USB ports and an Ethernet port. The keyboard looks comfortable, as the trackpad which is situated below the keyboard, with two mouse-buttons below it. The hinges are one the extreme ends that gives the system a sturdy feeling.
At about $200, it is probably world's cheapest 10" netbook. Also the new version now comes with a lattice design imitating a snake skin. This design doesnot extend till the interior though.
---
Related News:

An 11.1-inch MacBook Air clone from Shanzhai - 26.08.2009 20:07
Asus Eee PC 1002H clone emerges - 23.08.2009 12:08
Shanzhai C200 netbook - Get more, pay less - 17.08.2009 22:03